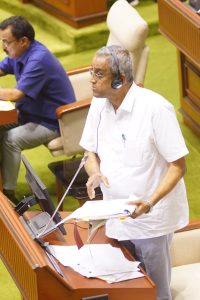 Dept has initiated underground cabling estimated around Rs 1,200 crore, says Sudin
Goemkarponn desk
PANAJI: Power Minister Sudin Dhavalikar today said that the bunched cabling project across the state is a total failure.
Sudin was replying to a question tabled by Quepem Congress MLA Altone D'Costa.
"I am agreeing that bunched cabling project across the state is a total failure. Rs 150 cr works have been sanctioned for Quepem. Rs 69 cr work will start after September 15," said Sudin.
He further said that to minimize the power interruptions works such as, periodic maintenance of the Power transformers, and switch gear including 11KV & 33KV breakers is carried out.
"Preventive maintenance such as tree cutting, removal of creepers on the poles, strengthening of lines, replacement of weak conductors, insulators etc. is carried out regularly," he added.
Quepem MLA Altone D'Costa questioned Power Minister on frequent power failures in Quepem Constituency.
He pointed out that the need of changing Feeder cables which runs through dense forest needs to be done underground.
Dhavalikar said the department has initiated underground cabling estimated at around Rs 1,200 crore.
"The process to commence work on the Verna sub-station at an estimated cost of Rs 350 crore is complete and the file has gone to the Finance Department for expenditure sanction. We expect the approval to come within the next 15 days, he said, adding that the power supply to Verna and the entire South Goa should improve in the coming days.
Besides, the Power Minister said that a 65MVA power transformer is at the stage of commissioning at Verna, which would improve the power supply to the industrial estate.
In addition, he said the government would take up underground cabling in Canacona taluka in the forest, agriculture and coastal areas of the taluka, including the Municipal area to resolve the power issues.
"The department will soon take up the work of executing the Rs 200 crore power project at Saligao after the tendering. All these works will improve the power supply in both North and South Goa," he added.
Comment