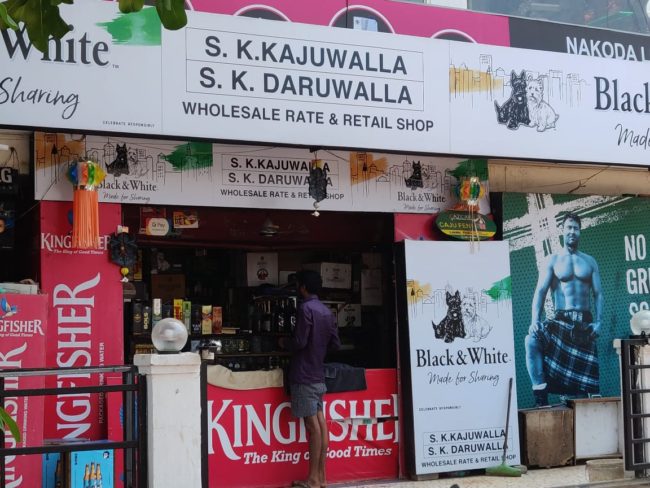 Goemkaponn Desk
PANAJI: It was a business as usual for people of Goa on Friday. From wine stores to restaurants to famous cashew shops, everything was open on Day 1 of the State-wide lockdown imposed to "break the chain" of COVID pandemic.
Confusion prevailed as to what was essential services. There were several wine shops, cashew nut shops opticians, stationary, electrical shops were seen open in many places.
Citizens demanded to know whether wine and cashew were essential shops?
"Is this lockdown, people are queuing up outside wine shops. The circular itself is faulty," said Melba Mascaenhas of Old Goa.
She said the traffic is more then what it is on Saturday and Sunday.
However, leaving aside a few places, the roads wore bit deserted look with very few vehicular movements. Though, several establishments were open, people, as responsible citizens, seen adhering to the norms.
Majority of the shops in the Municipal markets, however, remained shut as a part of call given by the government for the lockdown.
The outcome of the restrictions will be known only by next week, when the daily health bulletin on COVID would be released.
However, people felt that to break the chain some more stringent measures were required.
"To start with this weekend lockdown will not help. We need at least a fortnight with strict implementation and only essential shops to eb allowed," said Ryan D"Souza of Taleigao.
According to the order mass gatherings, cinema halls, theatres, boat cruises, casinos, community halls, parks, gymnasiums have been banned during the lockdown.
"Weekly markets will not be allowed during the lockdown. Casinos will also remain shut. However, industrial services will be allowed to function," the order stated.
The chief minister Dr Pramod Sawant has ruled out any extension to the ongoing lockdown, which will end on Monday, May 3, at 6 am.
"Goa Government has not taken any decision on extension of lockdown. Do not believe in Fake News circulated on social media," CM clarified
All essential services were seen operational. Shops and establishments were operational. However industries, factories and other essential officers, utilities such as government officers and PSUs, local bodies, medical and health facilities, agricultural related activities, constructions related activities, chemists, groceries ,eatables, hotels, the print and electronic media, telecommunication and internet services, banks, insurance, ATMs, petrol pumps, LPG cylinder services were also f functional.
Fish market and Municipal and Panchayat market were seen functioning with less crowd.
Restaurants have been allowed to operate with upto 50 % capacity from 6 a.m. to 9 p.m, however, restaurant kitchens will be allowed to provide home delivery/ takeaways at anytime.
The second wave of Covid 19 has hit hard the entire nation with Goa not an exception. State' s daily cases positivity count has touched 50 per cent with total active cases 20898.
What is more scary is the increasing count of mortalities which has now reached to 1146.
Comment