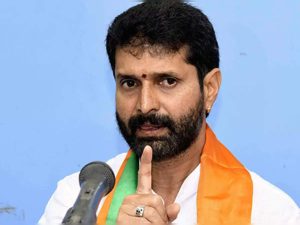 Goemkarponn Desk
PANAJI: BJP Goa Desk Incharge CT Ravi today refused to comment on a possible cabinet reshuffle in Goa stating that it is the perogative of CM Pramod Sawant.
"I have no authority to decide on cabinet reshuffle, CM Pramod Sawant is the right person. We can only suggest what is better for the state," said Ravi
Tempers appear to be fraying among Goa's ruling Bharatiya Janata Party ahead of an impending reshuffle. The suspense is driving those in the cabinet, as well as legislators trying to break into the council of ministers, to the edge.
"This is right question to wrong person. You will have to ask CM. If CM asks party will recommend. But the decision is his. Cabinet expansion and reshuffle depends upon him. He has not asked the party about it as yet." With the senior leaders visit to the state talk of cabinet reshuffle were doing rounds.
When asked about announcement of candidates for 2024 Parliamentary Polls for the 2 constituencies in Goa, Ravi said BJP's Parliamentary board will take the decision and announce the candidates once the election is declared. He also exuded confidence that the party will win over 350 seats in the elections.
The Kamat-Sequeira duo and Calangute MLA Michael Lobo are three of the eight MLAs who joined the saffron party in September last year but are yet to be given an formal responsibility either in the government or at the party level. The other five MLAs — Kedar Naik, Rajesh Phaldesai, Sankalp Amonkar, Rudolf Fernandes and Delilah Lobo — have all been inducted as chairpersons of State-owned corporations.
Ravi meanwhile is also expected to hold talks with party leaders and office bearers with regard to party organisational matters and preparations for the 2024 Lok Sabha elections.
A BJP leader who did not want to be identified said, Ravi is also expected to open talks with the local leadership over the vacancy which will arise in July with Rajya Sabha MP, Vinay Tendulkar's term ending in July.
On September 14, former Chief Minister Digambar Kamat, Michael Lobo, Delilah Lobo, Kedar Naik, Sankalp Amonkar, Rajesh Faldesai, Aleixo Sequeira and Rudolf Fernandes joined BJP, reducing Congress to 3 MLAs in 40-member assembly.
Since then, there were speculations that along with Kamat other two MLAs will be inducted in the cabinet.
The opposition in the state has alleged that these Congress rebel MLAs are quiet without demanding for positions as they have been paid. Besides this, they are also facing disqualification petitions filed against them.
Comment