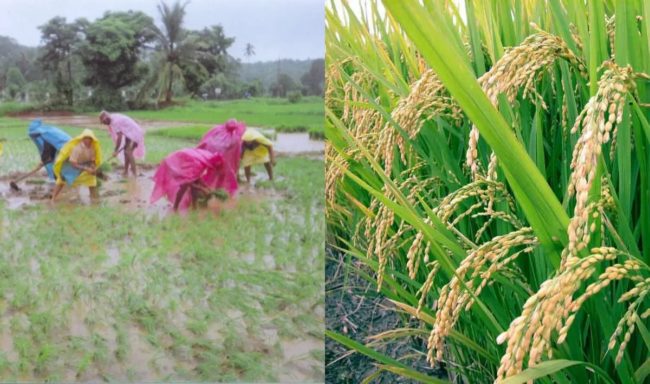 Krishnarao Bhiku Gaunker/Goemkarponn desk
CANACONA: Employment is a vital constituent in the economic, social and environmental growth and progress of a nation. Employment is a mighty tool that results in the financial empowerment of its citizens and decision-making capacity. Employment can fall under two categories namely short-term opportunities that yield quick impact and long term opportunities that can have enduring effects on livelihoods. Over the years, creating employment has become a major issue in India as we have in Goa.
Canacona taluka is copiously blessed by nature with tall hills, forests, wildlife, wetlands, mangroves, beaches, dunes, fertile coastal plains, estuarine rivers, bauxite, oldest rocks, cultural heritage etc. These resources are vital in the overall development of Canacona, which can create employment opportunities for sons of the soil.
Historically Canacona taluka is known for its agricultural practice, kumeri farming, horticulture, or cashew plantation. Unfortunately, our people have lost interest in farming over the last few decades because it has not remained a lucrative job. The net sown area in Canacona has declined from 10253 hectares in 1987 to about 9000 hectares in 2021. This trend may continue further in the years to come.
On a drive through the municipal area of Canacona, one can notice the agricultural fields which were once cultivated and formed a green carpet seen today as barren land without any farming activity. Agriculture which once was a main source of income, is looked upon as a menial job without any status. Uncultivated land is found in abundance. Unemployment is a major challenge today, which is why most political parties in their election manifestos make alluring promises to generate employment. Most youths get carried away by these promises, which remain unfulfilled due to a lack of proper infrastructure and planning. The Government must encourage today's youth by providing training and financial support.
Non-availability of farm labour or expensive farm labour is one of the reasons for keeping agricultural land unseeded. The answer to this question is community farming. Community farming comprises groups of small and marginal farmers and landless poor in a village who work collectively to use the cultivable wastelands to earn their bread and butter. For better results, the local community must be educated on the advantages of watershed management for the irrigation of crops.
As a result of the awareness created on the ill effects of chemically produced farm products, there is a great demand for organic food by health-conscious people. In many pockets in the Western Ghats sections of Canacona, the soil and climate are ideally suited for organic crops such as turmeric, ginger, nut mug, areca nut, lemon, sapota, mango, pineapple, kokum, cucumbers, muskmelon, watermelon, onion, vegetables etc. These products have a huge market in urban areas, resulting in the creation of employment opportunities and standard of living.
Being at the foothill of Western Ghats, Canacona has acidic soil at the top hills. The middle level is alluvium, and close to sea level, it is salty alluvium. Cultivation of crops should be chosen according to the soil type.
Many people in Canacona have taken the initiative to commercially grow different species of mangoes because the weather and climate of Canacona is well suited for this crop. There is a huge market for good quality mango in India and abroad; if taken seriously, it will boost employment opportunities.
Since Canacona is surrounded by a thick forest cover, wildlife, especially monkeys, threaten agriculture. Monkeys tend to attack crops like mangoes. The forest department should take the initiative to grow more fruit-bearing trees in forests so that monkeys and other wildlife are restrained from entering human settlements.
Dairy farming is another field that has yielded great profits in many parts of India. Not much development in dairy farming is seen in Goa. Canacona has a wide scope in this area as good milk-producing breeds of cows can be bred on this land. If villagers in Canacona come together and form a cooperative society like AMUL, it will create jobs and income for villagers.
The Government of Goa has launched many schemes to encourage dairy farming, but there are no veterinary hospitals and proper health care for the cattle. The Mortality rate of cattle is high due to foot and mouth Diseases; hence it should be brought down by providing proper healthcare and fodder. Farmers should be guided properly to take care of their cattle. Grazing crops should be cultivated to ensure adequate green fodder for the cattle.
People should start poultry farming because it also yields high profits. Proper layer food should be made available to farmers at a reasonable cost. Proper guidance and surveillance need to be given by the veterinary department in this regard. This would increase the production of eggs.
Canacona taluka is blessed with a long coastline, 3 estuarine rivers, and backwater systems. Largely local fishing communities carry out fishing activities on traditional lines. Hence, proper infrastructure development is necessary to obtain a high fish yield. Fishing Communities must get mechanized fishing boats, equipment, and cold storage facilities. Marketing and transportation of agricultural farm produce and fishery is a major factor as these are perishable goods.
Canacona taluka lacks an industrial base. Many industrial units located in the Industrial Estate are declared sick. The only medium-scale industry had to close down in the late nineties due to environmental pollution issues. After that, the Government made no serious efforts to start industries in Canacona. Starting a heavy and large-scale industry may not be possible due to large forest cover, but jackfruit, cashew, mango, and banana processing industries can come easily, generating employment opportunities for hundreds of youth from Canacona. Similarly, fish processing units can also be encouraged. When the Government receives any proposal from the private parties to start an industry in Goa, the Government must insist on locating such industries in backward talukas. In such cases, the Government must provide uninterrupted water, electricity, and other industrialists.
Till the early 1990's Canacona was not on the tourist map of Goa. It started becoming popular among foreign tourists in the mid-'90s, perhaps due to the overcrowding of Colva and Calangute beaches. A range of socio-economic benefits has come from tourism. Undoubtedly, it is true that tourism has geared up the pace of economic development in coastal Canacona.
The shoreline of Canacona is dotted with about 13 enchanting beaches. Palolem, Patnem and Agonda beaches attract domestic and international tourists due to their decent infrastructure. Tourism creates large employment opportunities because it has a multiplier effect. Hence, there is an urgent need to systematically plan and take tourism to other beaches of Canacona with the sole intention of providing livelihood to the local population. Similarly, Canacona taluka has a rich, lively and distinctive cultural climate which is a blend of folk arts including songs, dance, drama, music, visual arts, and folktales that reflect its traditions, customs, convictions and culture. This storehouse of cultural heritage can be used for promoting heritage tourism in the hinterland of Canacona, which will employ unemployed youths.
Education is the key to the progress and well being of people. Canacona taluka boasts of providing education even during Portuguese rule. The quality of education depends on the facilities available such as schools, colleges, other learning centres, qualified teachers and visionary management. At present, Canacona taluka has about 79 primary schools, 22 middle schools and 17 high schools, 6 higher secondary schools, and 1 degree College.
Canacona taluka has already missed a bus by not welcoming internationally reputed institutes like IIT and NIT. I don't know how our next generation kids will react to this in the years to come.
Our students, to be globally competent, we need to set up institutions of quality learning with a focus on vocationalization of education and skill development because having a graduation or post-graduation degree does not qualify an individual for a job, A competitive zest is required. A graduation degree is just a mere elementary qualification. So there is a need for higher professional education to make an individual fit for employment. With the type of educational history, Canacona has, it is fit to become an educational hub of Goa. The local population must unite and convince the Government to endorse Canacona as an educational hub.
To conclude, Canacona taluka has always remained at the forefront of the freedom movement, education and politics. With its potential resources, Canacona is showing a direction to mitigate the unemployment issue. The Government must appoint a committee of local people to suggest the Government solve the unemployment problem.
Comment