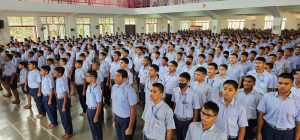 Students Complain of Extreme Heat As Many Schools Fail Do Not Have Proper Ventilation Or Working Fans
Parents Want Goa Govt to Shut Schools for A Week Or Till Monsoons Arrive
Goemkarponn desk
PANAJI: For the first time in decades, the schools in Goa have re-opened in the extreme extended summer, as the monsoons have so far decided to play truant.
The new academic year began on June 5, this Monday, but with the extreme heat, many students have reportedly taken sick.
Speaking to Goemkarponn on the condition of anonymity, parents said that several students had fainted during the morning assembly itself.
"There are no proper fans. One fan for 50 students, no proper ventilation, and to make matters worse, there is no water in toilets as well due to the shortage," said one parent.
Another said that the Chief Minister needs to look at the children sympathetically.
"You have shut the schools several times because of unwanted things, but here the students are genuinely suffering; why can't the government extend the vacation till things are in place. Or at least start online classes till the situation normalises," said a parent.
Aam Aadmi Party leader Cecille Rodrigues has written to Chief Minister Dr Pramod Sawant to delay the schools by at least a week.
"I have received letters from aggrieved parents of various schools in Panaji and Tiswadi taluka. The said parents are concerned about the well-being of their wards due to the unfavourable weather conditions, coupled with infrastructure issues," she wrote.
She said that the health of the students may be affected due to the sweltering heat, which is being felt in excess of 40 degrees.
"This problem is exacerbated due to constant power cuts which affect the working of fans and ACs. To make matters worse, many parts of Goa are facing severe water shortages, due to which the health and hygiene of students can be further affected," she said.
Rodrigues further wrote,. "In light of these serious issues, I hereby request you, the Education Minister, to consider their demand to postpone the re-opening of schools by a few days so that the above issues are resolved/addressed".
Comment