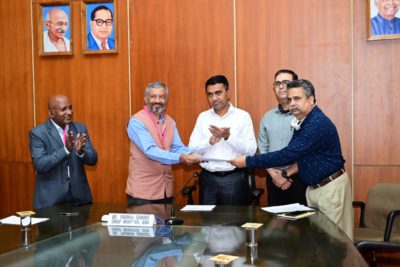 Goemkarponn desk
PANAJI: A Memorandum of Understanding for Cooperation between Directorate of Higher Education Government of Goa and Tata Consultancy Services, Association for Computing Machinery, India and Google CS Education was signed in the presence of Chief Minister Dr Pramod Sawant at a function held at Secretariat today.
This initiative aims to provide skills to school and college students to empower and prepare them for the future, which is one of the recommendations of the new National Education Policy (NEP 2020). Furthermore, employability skills are essential, especially given the technology-dependent workplaces.
The representatives from TCS Vipul Shah Head Education & Skilling India Pathshala initiative Mr. Puthumai A. Nazarene, Project Manager of Youth Employment Programme and Shri Ravi Dhavan IAS, Secretary Education, Shri Prasad Lolyenkar, Director of Higher Education signed the MoU in addition a Letter of Intent was signed with ACM India and Google CS Education.
While addressing, the Chief Minister said that this is an employability skill advancement programme for College students, people providing opportunities in the digital economy, building equitable, inclusive pathways for women, youth and marginalized groups".
This program will be used to strengthen the skills of our college students so that they have an edge in the competitive employment environment and are well equipped to discharge the roles and responsibilities in their career.
The Chief Minister said the Directorate of Higher Education will be organizing its first program entitled (Kaushalya Week), a skill development vacation camp for school children from 8-13th November 2021, providing essential skills including Computational Thinking, Coding, and Communication skills to children from ages 8-14 years. He said these vacation camps would be organized at 6 centres, across Goa. These types of initiatives are aimed at bringing overall development of student's right from their young age.
For successful implementation of this program which will benefit about 1100 students in the first phase, DHE is collaborating with Tata Consultancy Services (TCS), Association of Computing Machinery (ACM) India, and Google CS Education. The second program planned will commence from this academic year and will further help college students to improve employability and Communication Skills under TCS Youth Employment Programme (YEP), which DHE for college students across Goa is also organizing. This program is designed to prepare youths, especially from the weaker sections of society, for employment by filling the required skill gaps. These types of initiatives will indeed enhance their skills for academic growth and employment opportunity, he informed.
The Chief Minister also said the Directorate of Higher Education (DHE) intends to collaborate with various partners from academia and industry to achieve the goals, as laid out in NEP 2020. One of the key objectives is to empower both the teachers and the students to achieve academic excellence. In the first phase, DHE intends to organize two major programs for school students, and (i) youth (college students). Both these programs are focused on skill developments and will be implemented in collaboration in Association of Computing Machinery (ACM) India,
The first program is titled "Kaushlya Saptak" a skill development program planned as a vacation camp for school children from 8th November to 13th November 2021. It has been decided to offer 3 activity-based courses in a workshop model, which consists of Computational Thinking skill, Coding skill, and Communication skill. These workshops will be held in two batches:i) for students of 8 10 years old, and (i) students of 11- 14 years old.
The colleges which have been selected as centres for this program to reach all the children across Goa. are Government College of Arts, Science & Commerce, Khandala, Marcela; Government College of Arts, Science and Commerce, Quepem; Government College of Arts, Science and Commerce, Sanquelim; Government College of Commerce, Borda, Margao; Sant Sohirobanath Ambiye Government College of Arts & Commerce Pernem and Dempo Charities Trust & Dhempe College of Arts & Science, Miramar-Panaji.
Comment