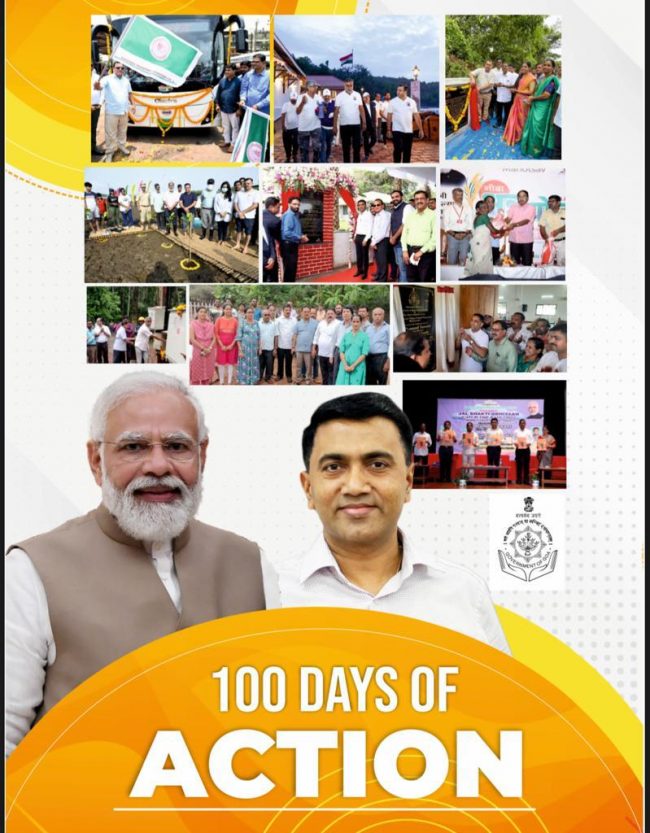 Goemkarponn desk
PANAJI: Contrary to the election promise of teh BJP, which said it would give three free cylinders to every Goan, the CM's 100-day achievement report says otherwise.
"Rs. 40 crores have been allocated in the budget to provide 3 free cylinders to every BPL household under Goa Gram Urja Yojana," said the 100-day report released by CM's office.
Following is the detailed report card:
Home and Vigilance
"Know Your Neighbours" initiative was launched in the South Goa District. This initiative was introduced in order to spread awareness among people to be watchful and vigilant about neighbours residing nearby.
Goa Government has taken a vigilant stand against forceful & deceitful religious conversions in the State to maintain communal harmony.
Digital Forensic Labs and Cyber labs have been launched to strengthen case management & reporting and the provision of specialized technical expertise on aspects of an investigation.
A crackdown was initiated on illegal Massage parlours across the State. Fast Track decisions were taken by the Government to curb & shut down such illegal establishments.
Constituted a Special Investigation Team (SIT) in the State for the first time ever to investigate the matter of illegal land grabbing/transfer. Crackdown has been launched on such identified properties.
Cabinet Ministers have been very vigilant against incompetent contractors and government staff. Officials were suspended for substandard work. Another contractor has been suspended for 2 years for similar negligence.
Education
The process to identify a site for IIT Campus in Sanguem Taluka has begun.
Work order for a new hostel block project of 150 rooms at the Institute of Psychiatry and Human Behaviour, Bambolim, has been issued.
Class VIl Regular Curriculum Teacher's Handbook, Social Media Handles and Portal were launched. The Industries Sector has also been consulted for preparing the curriculum. It will help teachers to adopt and nurture students for a bright future.
India-International University of Legal Education and Research was inaugurated. Goa Govt is walking down a committed path to make Goa an Education hub in India.
Through an OBE Orientation programme, 1088 college faculty from 20 colleges are trained for high-quality Teaching-learning practices.
State Higher Education Council has prepared a Concept Paper to facilitate the implementation of NEP at the Higher Education Level.
Tourism
Online approval and registration services were launched for the renewal of permission of all types. These services were launched, facilitating Ease of doing business for Tourism stakeholders.
Goa Tourism has witnessed a steady growth in tourist arrivals even after being affected by 3 waves of COVID. Goa has witnessed steady growth in tourist arrival. Even After 3 COVID waves, 1940683 domestic and 33841 foreign tourists visited in Goa from March 2022 to May 2022.
Beach Vigil App was launched to benefit the institutions working in Beach tourism sector and tourists. With these kinds of Apps, the tourism ecosystem shall ensure beach tourism safety.
Goa Tourism Board- the long standing demand of stakeholders has been fulfilled with the formation of Goa Tourism Board.
Health
Genome Sequencing Machine has initiated functions at North Goa district Hospital to help our medical teams to ascertain the different variants of Coronavirus.
State of the Art, Department of Chest and Robotic Surgery is all set to be launched at GMC. This will save Goans an outstate trip for medical purposes.
Goa received the 2nd prize at all India Level for their outstanding implementation of the National Oral Health Programme 2021 – 2022
FDA
North Goa has featured among the top 75 districts in the country in the Eat Right District Challenge declared by FSSAl.
Panaji Smart City has won the Eat Smart City Challenge by FSSAI along with 10 other cities.
Panaji is nominated to sign Milan Urban Food Policy Pact for the implementation of best food practices and to scale up Food Safety Initiatives.
Goa State FDA is awarded 1st place under the Small State category by FSSAl for the 4th consecutive year.
Waste management
Bio-Medical Waste Treatment facility was inaugurated at Kundaim industrial Estate. This Plant will help to boost the treatment and disposal mechanism of biomedical waste within the State of Goa to a huge extent.
Agriculture
 Seven mandis under E-NAM scheme of Central Government are being installed at Sankhali Valpoi, Mapusa, Ponda, Margao, Canacona and Curchorem.
Vegetable seeds of hybrid and high-yielding varieties were made available to the farmers through Zonal Agricultural Offices.
Directorate of Agriculture has initiated a procedure to establish Agriculture College in Goa from the academic year 2022 – 23
Environment
Project of Goa State Biodiversity Board, 'Govan' Multiproduct Processing Centre was inaugurated. This centre will provide an infrastructure to the local farmers to process and sell their products.
Fisheries
Goa Government has issued 200 Fish Seller cards to fishermen within the last 3 months.
A 6-month certificate course has been launched in order to impart skill Development training to fisher youth.
Forest
Turtle conservation is being carried out at four turtle nesting beaches in Goa.
Claims under the Forest Rights Act 2006 have been fast-tracked in the last 100 days.
A total number of 141 Forest Rights Claims have been approved by the District level Committee.
Water Resources
Jal Shakti Abhiyaan 'Catch the Rain 2022' was inaugurated. This campaign will create awareness regarding water conservation through various methods
such as rainwater harvesting, rejuvenation of rivers, flood banks, etc.
Urban Development
Foundation stone layed for construction of new Administrative Building of Ponda Municipal Council & Pernem Municipal Council
Rural Development
Inaugurated Credit Mela of Goa State Rural Livelihood Mission (Stree Shakti) for Self Help Groups 65 village panchayats are well equipped with Waste Disposal Facilities.
Archives and Archaeology
Rs. 20 crores are allocated for the restoration of temples destroyed during the Portuguese Era.
A special exhibition of Archival Records of Goa's Freedom Struggle was exhibited at The Sanskruti Bhavan.
Coronation Day of Chhatrapati Shivaji Maharaj was widely commemorated and celebrated in different parts of the State. This day will be celebrated every year as state festival at Betul Fort.
Power
Rooftop Solar Power System was inaugurated at MRF Shade, Garbage Treatment Plant, Bogmalo.
40 KW grid connected rooftop solar PV power plant is installed at Goa Secretariat, Porvorim.
Public Works Department
In order to ease Water Bill payment, BHARAT BILLPAY Services was launched under the initiative of Govt of Goa & TJSB Bank Ltd.
Under Chief Minister's Rojgar Yojana 2020 for Engineering Professionals, 67 young engineers are enrolled.
Initiated preparation of visionary master plan to achieve 24×7 water supply to all.
Mopa link road costing Rs 1183 Cr is under construction.
IT
In order to motivate startups & ensure benefits to the existing and upcoming Startups in the State, certificates and incentives were disbursed under the Startup Scheme.
A global technology company Visteon Corporation's new office was inaugurated.
Start Ups
Art-oriented and creative startups like 'Hello Florist' & 'Sanskruti Interiors were inaugurated.
This start-up was supported by the Central Governments' Start U India Scheme.
Industries, Trade & Commerce
New Industrial Growth & Investment Policy promotion Policy 2022 has been unveiled to strengthen and improve Ease of doing business.
As per Department for Promotion of Industry and Internal Trade, Goa has improved its ranking from 24 to 16.
The infrastructure for Electronic city was upgraded in order to create a sustainable environment for electronic industries to expand industrial sector.
Department of PPP has floated the RFP for development of International Convention Centre at Dona Paula.
An RFP for the redevelopment of Maritime School at Britona has been finalized as well.
Mining
The Government took a proactive step and initiated the process to take over the 88 leases. Also, it has geared up the process of -auctioning mining leases.
Skill Development & Entrepreneurship
Directorate of Skill Development & Entrepreneurship under PMKVY@ Human Resource Development Foundation Govt. of Goa has launched AYUSH skill development certified courses.
Goa's youth are getting training & employment opportunities in Civil Aviation Sector through Civil Aviation Skill Center.
These youth are being employed at Mopa International Airport, which will bring an all-around development in Goa.
Admission and Appointment Letters of GMR Goa were distributed Goa's youth are getting training & employment opportunities in Civil Aviation Sector.
Town & Country Planning
In order to facilitate fast-tracking permissions under TCP, the department has empanelled architects who can attest lands upto 500 sq mtrs directly. An online file tracking system, as well as a payment gateway, is launched.
A land up to 2000 sq meters to be approved within 21 days and above 2000 sq meters to be approved within 45 days, failing which the proposal will be deemed approved.
Rs. 20 Cr has been allocated under the home loan interest subvention scheme in the budget of 2022-23, to support every Goan to build a house.
Transport
 KTCL has implemented an Automated Fare Collection System which allows passengers to pay ticket fares using National Common Mobility Card, Debit / Credit Card, UPI, and QR Code Payment.
A total of 100 numbers of AC electric buses are deployed to KTCL under FAME India Scheme Phase – Il.
Under the scheme "The Goa Public Transport Reimbursement Cost of Digital Fare Meter 2021" an amount of Rs. 23.59 lakhs was disbursed to 211 beneficiaries.
Major Initiatives
Sarkar Tumchya Dari 2.0 launched at Sanguem. Swayampurna Goa 2.0 has been launched, a step up towards Aatmanirbhar Bharat.
Goa Statehood Day was celebrated for the first time in the state of Goa on 30th May 2022. Chief Ministers who immensely contributed to the progress and development of Goa were felicitated on this occasion.
Sports
Khelo India Centre of Excellence is established at Campal, Goa with the support of Central Government.
3 sports projects including a School Playground, Swimming Pool and a Hockey Stadium housed at Moleornem, Vasco and Peddem were inaugurated.
Directorate of Settlement & Land Records DSLR
Claims under the Forest Rights Act 2006 have been fast-tracked in the last 100 days.
Additional 366 claims in the Mayem Evacuee Property are being surveyed, and plans will be prepared to settle these claims very soon.
Social Welfare
Divyang people were handed over vehicles to bring Ease in travelling and create economic employment opportunities for the disabled.
Rs. 40 crores have been allocated in the budget to provide 3 free cylinders to every BPL household under Goa Gram Urja Yojana.
Government has extended its support to banks and bankers to enable common people to be aided under Jan Dhan Yojana & other schemes.
Labour and Employment
Labour Department has taken initiatives to register unorganized workers under e-Shram portal.
Comment