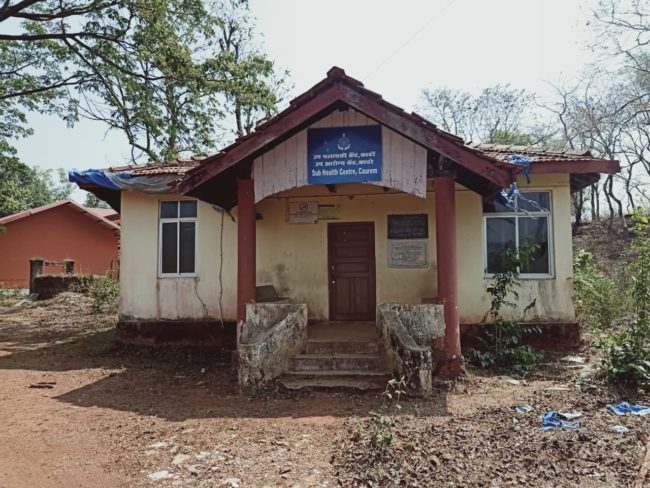 Christanand Pednekar
SANGUEM:
Atmanirbhar Bharat Swayampurna Goem, Vote BJP for all-round development are the slogans of this government, but in reality even after almost 10 years of governance some villages in Goa are still crying for help in terms of basic necessities.
On Friday, Goemkarponn exposed CM Dr Pramod Sawant's lie on the Har Ghar Jal as the village of Cavrem has no nal or no jal for decades now after liberation.
Today, the Goemkarponn team exposes how the Caverm village is left behind in terms of health infrastructure, which is become very essential during this COVID19 pandemic.
To start with the sub health centre at Cavrem-Pirla village works only for two days in a week. The building has no maintenance whatsoever, broken windows and cracks all over the building are glaring.
The villagers say out of the two days the sub Health Centre conducts Ayurvedic OPD on Wednesdays and Allopathic OPD on Friday.
"So literally the health centre OPD is for only one day, as there are no takers for Ayurvedic OPD," locals say.
They have no 108 ambulance service available in the village.
The State's PWD Minister three powerful ministers come from the vicinity of this village – Dy CM Babu Kavlekar, PWD Minister Deepak Pauskar and Power Minister Nilesh Cabral but yet the village is left much backward in terms of developments.
"We have a sub health centre, which operates for only two days a week and in case any emergency, we have to travel to either Borimol health centre, Quepem or Hospicio Margao," the villagers say.
Sudhkar Gaokar, a local, says that only the Aurgaya Mitra van, which comes two-three days a week somewhat helps villagers.
"There is no 108 service in Caverm village panchayat, if any emergency we have to call 108 from Kurpem or Quepem, which is 15 kilometres from the village," he said.
Comment