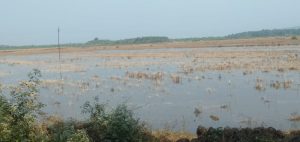 Goemkarponn desk
PONDA: In a meeting held on Sunday, the Farmers at Marcaim demanded Chief Minister conduct a Vigilance probe into the scam by Bar Amre Khajan Tenant Committee.
After last Sunday's meeting, tension prevailed again in the farmer's meeting at Marcaim on Sunday. As the farmer's Committee failed to produce account books, they resolved to file a police complaint. Similarly, they even warned Ponda Mamlatdar and the Government to stage agitation for justice.
They alleged a scam of several crores for the past six years by Committee and misappropriation in accounts and that despite the matter and complaint being pending before Ponda Mamlatdar, he failed to give justice; similarly, he also not attending to farmers meeting to sort out the issue. Mamlatdar is a public servant and should attend meetings, said farmers.
The farmers urged Chief Minister to conduct a Vigilance inquiry into income and expenditure accounts, suspecting a scam by the farmers' Committee, who was given charge for maintenance of Bandhara and accounts of sluice gate income. Police were present for law and order.
The farmers are upset following Committee's failure to repair the breach in Bandhara and submit income and expenditure accounts.
The last Sunday, they had grilled the three-member Committee asking for an explanation of accounts. The Committee members had assured to submit an audited statement of account today; however, except Chairman, the two other committee members did not attend the meeting, which irked farmers, and they grilled the Chairman.
The farmers were told that the Secretary had handed over accounts books to Mamlatdar. The farmers were irked to see that without showing those books to them, they were handed to Mamlatdar. Premanand Gaude demanded a government probe into the scam. He also blamed Ponda Mamlatdar for failing to take timely action leading to the problem.
Comment