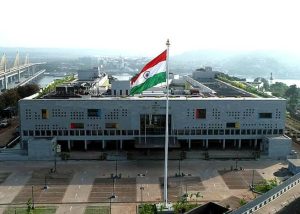 Goemkarponn Desk
PANAJI: The Goa branch of the High Court of Bombay ordered the government to refer the vacant "Designated Officer" position in the Directorate of Food and Drug Administration (FDA), which became available following Iva Fernandes' retirement, to the Goa Public Service Commission (GPSC) for promotion.
In a writ petition, Sanjyot Kudalkar, nee Sanjyot Azgaonkar, argued that the FDA's "Designated Officer" position was one for which she was qualified for promotion, and she contested the government's decision to fill the position through direct recruitment rather than promotion. She had requested in her prayer that the respondents be told to call a Department Promotion Committee (DPC) to fill the position,
The petitioner had argued that since 50% of the positions must be filled by promotion and the remaining 50% through direct hiring, the vacancy created by Fernandes' retirement should be filled through promotion rather than by hiring new employees.
In addition, the petitioner claimed that none of the 11 workers in the feeder category, including herself, would be eligible for advancement if the position were filled by direct recruitment.
The Supreme Court had noted that a person is hired not just for a job but for an entire career, and as a result, one must be provided the opportunity to grow. The High Court cited this decision in support of its position. It appears that the government's interpretation does not fully address all of these pertinent.
For the purpose of filling the position of "Designated Officer" via promotion, the Court ordered the government to transmit the required request to the GPSC within a month, and the GPSC was required to finish the procedure within the following three months from the date of receipt of the requisition.
Comment