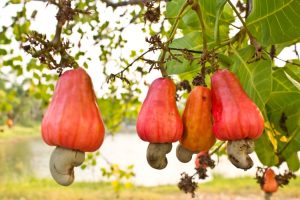 Goemkarponn Desk
PANAJI: State government announced grant of Geographical Indication (GI) tag for 'Goan Cashew' (nuts and apple).
Under the ODOP initiative for North Goa district, Cashew nuts have been identified as Product one, while Feni has been designated as Product two. In the South Goa district, the positions are reversed, with Feni identified as Product one, and Cashew nuts as Product two.
These product identifications serve to highlight the distinct specialties of each district, further reinforcing their unique identities.
Director Swetika Sachan of the Directorate of Industry, Trade and Commerce, Government of Goa, announced the imminent granting of a Geographical Indication (GI) tag for 'Goan Cashew.'
This prestigious recognition, made possible through the completion of necessary formalities, will officially brand the renowned local product. The GI tag is expected to significantly enhance the reputation and marketability of Goan cashews, providing a tremendous boost to the cashew industry as a whole.
In line with the shared objective of highlighting Goa's diverse range of handicrafts, art, and cultural heritage, the state government, in collaboration with Invest India, is embarking on a pioneering project—the establishment of a 'Unity Mall.'
This dynamic retail space will serve as a comprehensive destination for visitors to immerse themselves in the essence of Goa. The Unity Mall will not only feature 'One District One Product' offerings but also showcase an extensive range of local handicrafts and provide exhibition spaces for state emporiums.
As part of the ODOP Sampark event, a panel discussion involving key stakeholders from the Goan cashew and Feni industry was also organized.
The discussion brought together esteemed participants such as Shri Nandakumar Parab from Goa Forest Development Corporation, Shamba Naik, Excise Inspector and Nodal Officer for Geographical Indication (GI), Dipak Parab from the Goa State Council of Science and Technology, Gurudatta Bhakta, President of the Goa Cashew Feni Distillers and Bottlers Association (GCFDBA), and Rohit Zantye, President of the Goa Cashew Manufacturing Association.
The panel discussion facilitated a fruitful conversation between cashew manufacturers and Feni producers, allowing them to exchange ideas and insights on the industry's challenges and opportunities. The event provided a platform for these key stakeholders to collaborate and contribute to the growth and development of the local cashew and Feni sectors.
Comment