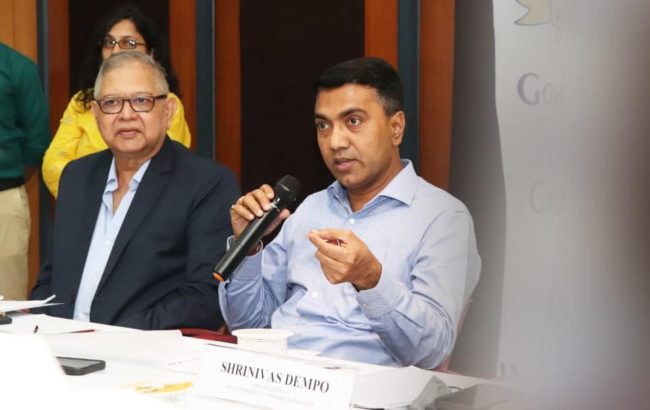 Goemkarponn desk
PANAJI: The Chief Minister, Dr Pramod Sawant, appealed to the Captains of Industry in Goa to ensure job security to the people of Goa working in the private sector, assured them of providing a skilled workforce and implementing Government schemes for those in the private sector.
"We will 100 % solve your problems," Dr Sawant asserted at today's interactive session at the Goa Chamber of Commerce and Industry (GCCI) in Panaji.
Present on occasion were Chief Secretary, Puneet Kumar Goel, IAS, Secretary, Power, Shri YVVJ Rajshekar, IAS, Secretary, Tourism, Shri Ravi Dhavan, IAS, Secretary, Industries, Shri CR Garg, IAS, Managing Director, GIDC, Shri Venancio Furtado, President of GCCI, Shri Ralph De Sousa, Vice President GCCI, Shri Shrinivas Dempo and other prominent industrialists. Critical issues about the industrial sector in Goa were discussed.
"We are continuing with Goa's vision of Swayampurna Goa on the theme of Atmanirbhar Bharat," said the Chief Minister, adding that if industries grow in Goa, the State will benefit immensely. He said that the formation of a Grievance Redressal Committee would help ensure that there are no hassles in addressing issues between Government and industries in the future.
Dr Sawant said that reforms are still required to be made in the industrial sector. Ease of Doing Business in Goa should be smooth without hurdles, he said and added that on his recent visit to Telangana, he was impressed with the Telangana industrial model and was considering implementing it in Goa. He sought the required inputs of those in the industry in Goa.
"We are trying to encourage non-polluting industries to the State. We need to identify Goa's strength," said Dr Sawant, "The hospitality and tourism sector. From here, we can explore the scope of medical tourism etc. We need to innovate in the tourism sector and resolve long-standing issues like the taxi issue if we want tourism to thrive." Dr Sawant emphasised the need to focus on the blue economy and the education sector.
Stressing the need to create employment, Dr Sawant said that the GCCI should encourage new industrialists and for that, the Government is ready to help.
"A lot of revenue goes out of State in procuring vegetables, dairy, etc. We can give to our Goan farmers and entrepreneurs if we motivate them sufficiently," he said.
Comment