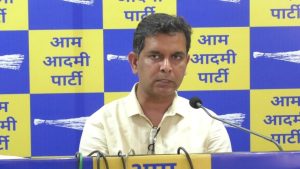 Goemkarponn desk
PANAJI: Aam Aadmi Party leader in Goa has alleged that officials posted at the check post of Goa border take bribes from Rs 20 to Rs 2,000 from interstate goods transport vehicles to enter in the state.
On Tuesday night, AAP Goa unit President Amit Palyekar exposed the bribes allegedly taken by the officers at Pollem check post on Goa- Karnataka border by becoming a truck cleaner.
"I went to Karwar in Karnataka and there I took a lift from the truck driver to come back to Goa border pretending to be a cleaner. That time I saw how these officers of excise, police and Regional Transport Office take bribes from the goods vehicles to enter Goa," Amit Palyekar said, during a press conference here.
He said that officers take bribes to the tune of Rs 20 to Rs 2000, depending on type of goods and tonnage.
He said that these truck drivers are forced to pay bribes, else they are harassed on the pretext of checking the entire truck.
"These vehicles are given entry without checking as they pay them. Absolutely no checking is done. It is risking our security," he said, adding that the whole episode of bribe was exposed in front of the media.
"Some officials who were present at the check post fled from the site and ran into a forest area. Why did they do that?" he questioned.
He said that with present practice, spurious alcohol and contrabands could easily move to other states from Goa as vehicles go unchecked.
"While we were exposing this corrupt practice, one of the officers called one madam over the phone and then he deleted the phone number. Who is this madam? Who is running the government, the Chief Minister or this madam? Is the Chief Minister responsible for security of Goa or this madam? Somebody needs to answer this," Palyekar said.
"In whose pocket do this collection (of bribe) goes, and if it doesn't goes to top level then why there is no check on it," he pointed out
He said that such practices cannot take place without knowledge of Chief Minister Pramod Sawant and Transport Minister Mauvin Godinho.
"This is complete failure of administration. If Pramod Sawant is not aware of this,then he is not fit to become Chief Minister," he said.
Amit Palyekar said that they will continue theirmission to expose corrupt practices taking place at check posts and in government departments.
Comment