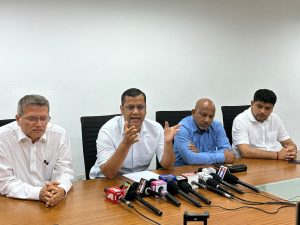 Goemkarponn desk
PANAJI: BJP Government grabbed power in 2012 by giving false promises to the Goans and Unemployed Youths. Chief Minister Dr. Pramod Sawant's promise of providing employment opportunities to the Goan youths through "Chief Miniter's Apprenticeship Scheme" is to keep up with the tradition of Election Jumlas, charged Leader of Opposition Yuri Alemao.
Addressing the Media along with Aldona MLA Adv. Carlos Alvares Ferriera and Quepem MLA Altone D' Costa, after the Congress Legislature Party Meeting, Yuri Alemao stated that he will convene a Meeting of all Seven Opposition MLAs soon to decide on the Floor Management and Strategy to take on the BJP Government in the upcoming Assembly Session.
They had promised the Resumption of Mining, Unemployment Doles and Revival of the Economy in 2012. The BJP Government pushed the State into Bankruptcy and created Financial Emergency. The insensitive BJP Government is spending multiple crores on Event Management and Publicity, depriving the Social Welfare Beneficiaries, Mid-Day Meal Suppliers, and Teachers of their rightful Financial Assistance, Payments and Salaries, pointed out Yuri Alemao.
The Chief Ministers Apprenticeship Scheme is another Jumla of the BJP Government to lure the Youths. This Scheme was approved by the Cabinet on 17th February 2021. The Chief Minister made a Statement in February 2023 that Goan Youths will get Fixed Term Employment when they complete their Apprenticeship through Labour and Employment Department and will get a minimum salary of Rs. 15000/- per month. Surprisingly, Chief Minister Dr Pramod Sawant made a Statement on 12th June 2023 that Youth will get Rs. 8000/- to Rs. 10000/- if they join under Prime Ministers' Apprenticeship Program, pointed out Yuri Alemao.
The Chief Minister, Dr. Pramod Sawant, on 23rd June 2023 made a Fresh Statement saying that 10000 Youths will be recruited in Public and Private Sectors as apprentices under Chief Ministers Apprenticeship Policy. This shows that Dr Pramod Sawant himself is confused, stated Yuri Alemao.
Why the Government could not implement the Scheme from July 2021 to June 2023? Whether the Government has notified the said Scheme, and Whether Budgetary Provisions been made for the effective implementation of the Scheme? Questioned Yuri Alemao.
The Congress Legislature Party also discussed and decided to raise the issues of Mhadei, Mining, Environmental Issues, Rising Prices, Collapse of Law and Order, Wasteful Expenditure on Events, Corruption, Collapse of Tourism Industry, Frequent Power Cuts, Failure of Disaster Management Authority and deliberate attempts of the BJP to spread Communal Tensions in Goa with an eye on Lok-Sabha Elections next year in the coming Assembly Session.
"We will make optimum use of all working days of the Session. We hope that the Government will not curtail the Session. I will convene a Meeting of all Opposition MLAs soon," informed Yuri Alemao.
Comment