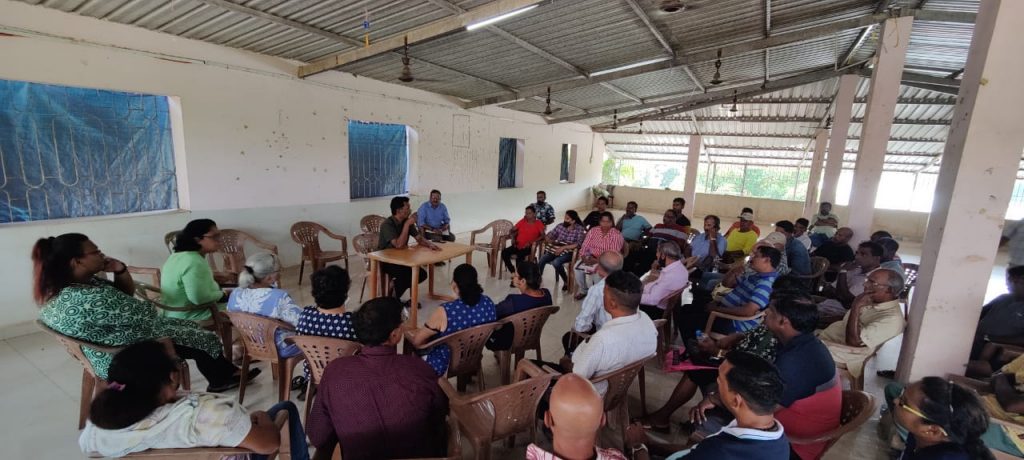 Goemkarponn desk
Cortalim MLA Anton Vas, on Tuesday morning, met the villagers of Velsao who were affected by the double tracking of the railway's project.
Vas met all the people and met in the presence of Velsao Panchayat Sarpanch Maria Gouveia.
It was finally decided that the MLA Anton Vas will call for a joint meeting with the Dy Collector Ravishekar Nippanikar with the Velsao locals to address the issues of the public opposing the double-tracking project.
"We have had a fruitful meeting, and I had called the meeting after Velsao Panchayat informed me that the Velsao villagers affected by the double tracking project wanted to meet me to address their issue. We have now heard all the grievances, and we have decided to call a joint meeting with Dy Collector and Velsao locals and, if possible, have a public hearing because the story told by the Dy Collector differs from the story told by the villagers," he said.
Vas further says that he wants to address the issue of the villagers and come to a concrete solution, and this is the first step to addressing the solutions of the villagers.
Velsao Sarpanch Maria Gouveia said that she was thankful to the MLA Anton Vas for having called the people to address their issue.
"The main issue was the double tracking, and only the people whose properties are allegedly encroached on by the railways have attended the meeting," she said.
The Sarpanch stated that more people have the right of way, some have houses nearby of the tracks and some have power of attorney, but they could not attend the meeting because there was not much time.
"The solution given now is to meet the Dy Collector and address the issues faced by the people. We would want the Railway authorities to also attend the joint meeting if possible so that there can be a concrete solution," said Gouveia.
Another local, Camilo Souza, said that there was various discussion during the meeting with MLA Anton Vas.
"The Railways are insisting that we must produce our documents in case we object to their works, but in reality, it is the railways who must show their land documents. We don't want double tracking because it causes coal pollution, and we already have a miserable life with 24 trains, and double tracking would make things worse," said Sousa.
Former panch and senior citizen Maria Olga DSouza said that the village was against the double tracking in totality.
"We don't have access, and we are almost landlocked. We face pollution, no proper drainage, and we don't have crossing facilities with speeding trains regularly along the tracks. We can't sleep because these trains horn all the time and the coal that falls from goods trains lands on our property. We are against double tracking, and we request the Government to scrap double tracking project," said D'Souza.
Comment