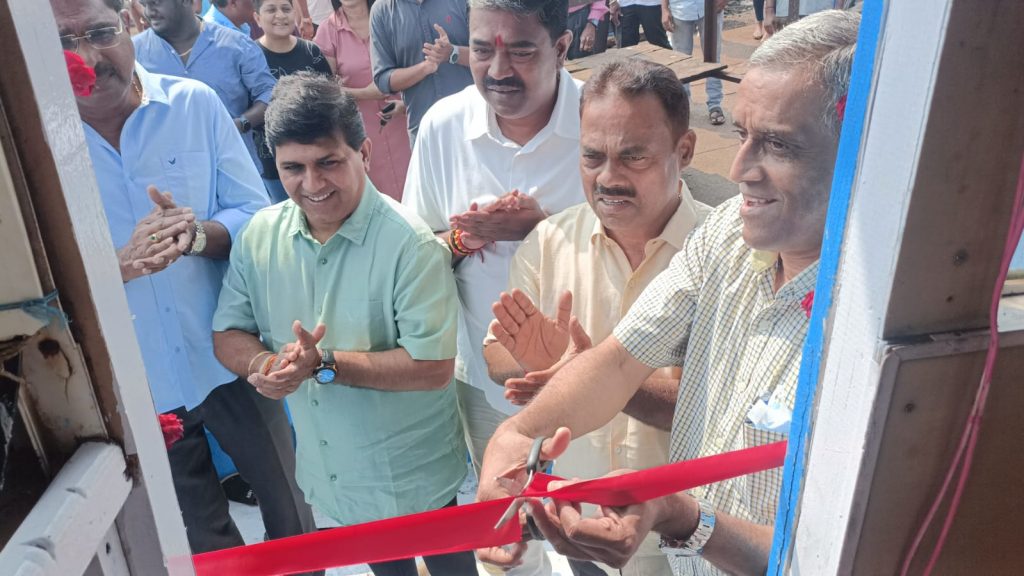 Goemkarponn desk
VASCO: Power Minister Sudin Dhavalikar on Thursday said that Goa Government was in the process of producing a large amount of green energy and promoting it in different sectors of Goa through solar energy.
Dhavalikar was speaking to reporters after inaugurating the Goa's first solar Powered chiller system on the fishing trawler "Vailankanni Nakshatra" at Vasco in the presence of Fisheries Minister Nilkanth Halarnkar, Vasco MLA Krishna Salkar, Mormugao MLA Sankalp Amonkar and AGFBOA President Jose Philip D'Souza and others
"We, as the new Government, have taken a lot of new and pending works, and we are now trying to promote solar energy. We have now decided to bring solar power into the fishing business, which will benefit the fishermen and help save on fuel prices," he said.
Dhavalikar said the Government will have further modifications on this solar energy system used on fishing boats, and this is the first trawler in Goa where we have launched a solar-powered chiller system.
"We will have to manufacture huge quantities of solar power, and PM Narendra Modi has told us that by 2030, we will have to produce more than 50 per cent of an existing power in India to green energy. We are all striving to produce and promote green energy, and we are also in discussion with the union power ministry to offer subsidies to the fisheries department for promoting solar energy," said Dhavalikar.
Fisheries minister Nilkanth Halarnkar said that the solar power chiller was tried on an experimental basis to explore solar power in the fisheries area.
"We are hoping that it will be successful and it will help in saving fuel costs that are involved in the chiller of the fishing boat. The Government has tried to promote solar energy in all areas except the fishing business, and we have decided to get solar energy in this area as well. Solar energy is also helping reduce pollution, and we will also provide subsidy for solar-powered chillers to the fish boat owners," said Halarnkar.
Vasco MLA Krishna Salkar said that solar panels have been installed on the trawler to move solar energy into the fishing fraternity to save other rising fuel costs.
"Solar energy is the country's future because as population increases, we have decreasing energy sources, and solar power is the best alternative. Diesel and Petrol prices have been rising and are out of reach, and like we have moved to electric vehicles, we have now shifted to solar energy for streetlights. And I appeal to the other boat owners to move to solar energy," said Salkar.
Mormugao MLA Sankalp Amonkar said that it was for the first time that the power and fisheries ministry have put a joint effort to promote solar energy to launch Goa's first solar powered chiller on a fishing trawler at Vasco.
Comment