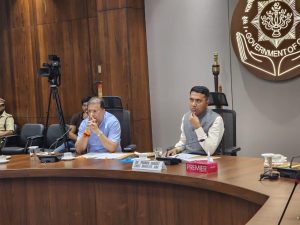 Goemkarponn desk
PANAJI: Eco-camps at Surla and Wildlife tours at Bondla, safari at Netravali Wildlife Sanctuary were some of the proposals discussed by the State Wildlife Board on Monday besides 8 proposals of BSNL for erection of mobile towers in Protected Areas of Goa.
The meeting was attended by Chief Minister, Pramod Sawant, Forest Minister Vishwajit Rane, Chief Secretary Puneet Goel, Chairperson GFDC Dr. Deviya Rane, PCCF Rajiv Gupta, Umakant, CWLW, MD GFDC Saurabh Kumar, and other officials.
During the meeting, key discussions centered around the promotion of eco-tourism initiatives in the hinterland with community participation.
Eco-Tourism proposals of GFDC which is recently designated as Nodal Agency for development of Eco- Tourism in Protected Areas and Government forest, were disussed including following:
Development of Eco-camps in Surla (Madei Wildlife Sanctuary) and Aranayak Camp ,Collem (Bhagwan Mahavir National Park),
2. Wildlife tours in Bondla Wildlife Sanctuary
3. Development of eco-friendly services at Dudhasagar waterfall for visitors in Bhagawan Mahaveer National Park.
4.Wildlife tours through specially designed jeep safaris in Netravali Wildlife Sanctuary.
Forest Minister Vishwajit Rane said Board also approved and recommend 8 proposals of BSNL for erection of mobile towers in Protected Areas of Goa.
"Board asked Forest Department to carry out a study in consultation with experts to prepare a comprehensive plan for development of eco-tourism," he said.
Comment