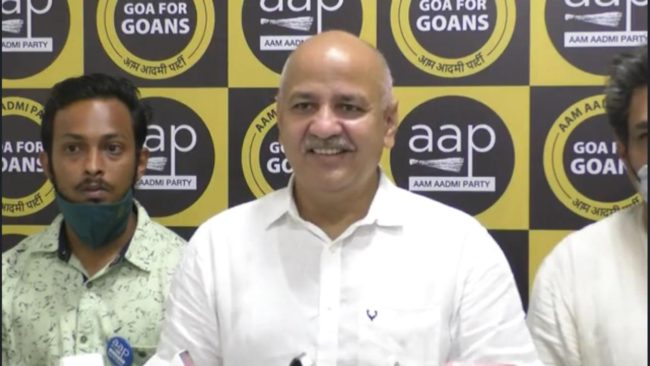 Goemakrponn desk
PANAJI: Stating that the people of Goa are looking for a change, Dy Chief Minister of Delhi Manish Sisodia said that both Congress and BJP buried the vision that Bhausaheb Bandodkar and Manohar Parrikar had for the development and growth of Goa.
Interacting with journalists in the capital city here, Sisodia said the "I believe that people of Goa are looking for change, they are looking for a progressive Goa and believe in the Kejriwal Model of Governance. In the last few years, when people get tired of Congress, they vote for BJP.
He said that when people get tired of BJP, they vote for Congress. "There is no better alternative. What is BJP and Congress giving to the people of Goa? The people of Goa did not have an alternative before but today, people view Aam Aadmi Party as a sincere and transparent political party, a party with a vision," he said.
The Delhi education minister alsoi says the way AAP has seen participation of the Aam Aadmi, the youth, it indicates that the party is a symbol of hope, of confidence.
"People believe in Kejriwal's vision for progress. I was amazed to see that 4000 party workers of AAP in different locations yesterday, when I attended AAP's meeting with volunteers. The speed with which our party has growth with volunteers in the last 5-6 months is an indication that people of Goa want change, they want growth. Today, AAP party workers are present in 40 out of 40 assemblies, municipal wards and polling booths in Goa," he said.
Sisodia said, "The way Bhausaheb ji, the first Chief Minister of Goa, laid the foundation of education in Goa, Congress and BJP made sure to weaken this foundation. Similarly, BJP, after the death of Parrikar ji, weakened the foundation of development which Parrikar ji had espoused. BJP buried the dream of development that Parrikar ji held. I urge all those citizens who align themselves with Parrikar ji's vision of a developed Goa to come forward, to join and support AAP because we are the only party in Goa which will bring real change as we have done in Delhi. I am already seeing a change in Goa and I know that AAP will fill 40/40 seats in Goa to become the elected government here."
He further said that now that everyone is seeing the progressive and honest politics of AAP in Goa, even people of other parties want to join our party. These are the people who want to support honest politics, who want to bring change in Goa. People noticed when the Zila Panchayat elections happened, how an ordinary 26 year old Hanzel Fernandes did the extraordinary and won a seat in the election.
"Overall, AAP won 15% of the vote share in the Zila Panchayat which is a big sign of change, that people desire change. Although people of other parties want to join us now, we have created a benchmark that those who have a record of corruption, bad character and criminal offense will not be accepted into the party. Other than that, any Aam Aadmi, social worker, industrialist, labourer, activist should join us and help us expand our dream," he says.
Sisodia says that In such a short time, AAP has expanded the team and garnered 15% of seats, slowly this will change to 50%.
"We are confident this will be the case before the next assembly elections because people want change and they believe in the Arvind Kejriwal Model of Governance. The foundation of this governance is honest and visionary politics and we will bring that to Goa," the Dy Chief Minister of Delhi said.
Today, he says, the whole nation is talking about Kejriwal Model of Governance because when we work with honesty.
"We don't have any problems in garnering support or money because we circle back the taxes to our citizens through free water, electricity, excellent healthcare and education, as you have seen in Delhi. Delhi's budget in the last 5 years increased by lowering the tax and increasing the provisions we disseminate to our citizens. We want to do the same for Goa," he added.
Manish SISODIA PC highlights…
• People of Goa are now looking upto the Kejriwal Model of Governance. They are tired of BJP and Congress's empty promises, seeking an honest alternative
• Aam Aadmi Party wants to take forward Parrikar ji's vision of development of Goa
• Congress and BJP buried the vision that Bhausaheb ji and Parrikar ji had for the development and growth of Goa
• Confident that AAP will win 40 out of 40 seats in assembly elections of Goa because people want change
• Urge all citizens of Goa to join hands with AAP, to support honest leadership and bring progress in Goa
Comment