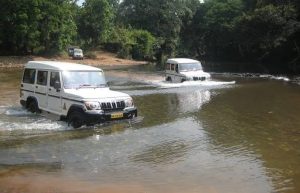 Goemkapronn desk
PONDA: Tourism is at its peak at Dudhsagar, with tourists arriving to celebrate the Christmas holidays, following which the Government has increased the number of Jeeps ferrying tourists to Dudhsagar waterfall from 240 per day to 275 trips per day.
Considering the eco-sensitive Government limit the trips, however, it has increased for a few days on the occasion of Christmas Celebrations when tourist flow is more.
A large number of tourists are flocking to watch the majestic waterfall.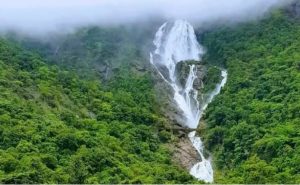 The season has been commenced on October 1st week of this year. However, continuous rain and flooding in the river affected tourism for a few days in October. Later in the past more than two months, there has been a growing tourist at Collem, but they faced hardship in visiting the waterfall as only 240 Jeeps per day were ferrying them to the waterfall and this many disappointed tourists returned back without a visit.
Jeeps ferry around seven passengers at a time. The Dudhsagar has been famous after it was filmed in the Chennai Express film. Most tourists learnt to be domestic.
Some jeep operators said the crowd of tourists will be there up to 1 January, when the new year will be celebrated, and after that, it will reduce. Some jeep operators said Government need to increase trips from October to December when tourist flow is high…
Comment