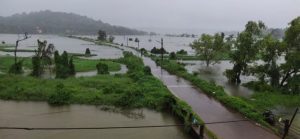 *Incessant rain causes flooding, posing challenges for motorists and risking vehicle damage
Goemkarponn Desk
The perennial issue of water logging has once again plagued the Guirim stretch, leaving commuters in distress as they battled through submerged roads caused by the recent incessant rainfall. The fields surrounding the area were flooded, exacerbating the problem and creating a harrowing experience for all those traversing the region.
One of the worst affected areas was the junction leading towards Guirim panchayat, a bustling spot known for heavy traffic footfalls. The torrential downpour resulted in the complete inundation of the junction, rendering it nearly impassable for motorists, particularly two-wheeler riders.
The treacherous conditions not only made travel on this stretch perilous but also posed a significant risk of engine damage to vehicles.
Commuters were left grappling with the chaotic situation, struggling to navigate through the waterlogged roads and contend with the ever-increasing traffic snarls.
The lack of proper drainage infrastructure exacerbated the problem, with water accumulating on the roads and refusing to recede, thereby impeding the smooth flow of traffic.
The water logging problem at Guirim has become an annual ordeal for the residents and commuters, necessitating urgent attention and comprehensive measures from the concerned authorities.
The time has come for swift action and the implementation of sustainable solutions to ensure the smooth movement of people and vehicles during the monsoon season.
Comment