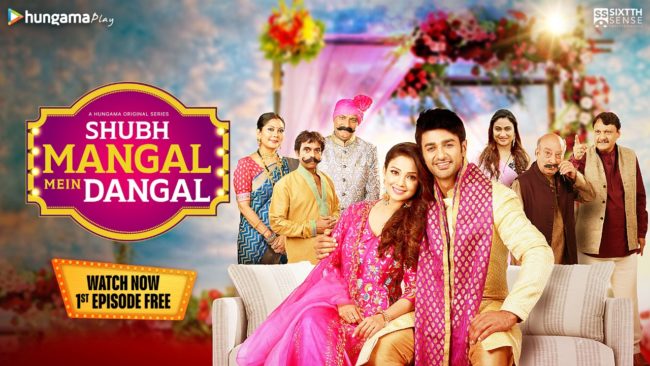 Hungama Play, a leading OTT platform owned by Hungama Digital Media, has launched a new show 'Shubh Mangal Mein Dangal'. Headlining the show are popular stars, Adaa Khan and Nishant Malkhani.  The show is about a wedding in the era of social distancing that turns chaotic as relatives ignore the meaning of 'limited guests only'. Produced by Sixtth Sense Entertainments, the sitcom is written by Rajat Vyas and directed by Sanjiv Chadha.  The show features an ensemble cast comprising popular actors such as Amit Behl, Manini De, Amita Nangia, Nancy Gill, Tapasya Agnihotri, Santeea Odwani, Neeraj Sood,Smrridhi Chaddha, Ishtiak Khan, Mithilesh Chaturvedi, Saandesh Nayak and Mellisa Pais
Shubh Mangal Mein Dangal revolves around the life of Vishwanath (Nishant Malkani) and Mitali (Adaa Khan), a couple whose families are looking forward to having a big fat Indian wedding in Bhopal. With social distancing implemented in the city, the heads of the family are tasked with limiting the guest list to 50. With no one wanting to miss out on the wedding, things take a completely unexpected and hilarious turn as more than 100 'baaratis' turn up. Its complete pandemonium as Vishwanath's family, now, doesn't only have to keep the guests hidden, but also massage the ego of every distant relative who wants to be part of the proceedings. Being a marriage filled with mayhem and fun, the show, just like the two families, looks forward to a good reception.
Speaking about the show, Siddhartha Roy, COO, Hungama Digital Media, said, "At Hungama, we've always looked forward to bring out unique stories that push the boundaries of new-age storytelling. Adding to that, the content that we create must be relatable to our target audience. The comedy genre is highly engaging that brings the entire family together and makes their viewing experience more enjoyable. With Shubh Mangal Mein Dangal, we are sure to strike the right chord with audiences by showing them the relatable, yet hilarious moments, involved in planning a wedding. Packed with drama and laughter from start to end, we look forward to the show being widely appreciated by the masses and families alike.
Talking about her character, Adaa Khan added, "When I read the script for the first time, what stood out for me is that each character contributes to the narrative compellingly. While the story will be something we all experienced during the lockdown, the fun factor will hopefully have everyone hooked. The last two years have been difficult for everyone, but they taught us a lot. Planning a big fat Indian wedding is one of them. I hope the audience will laugh it out and enjoy this show with their families and be reminded of the show every time they are planning or attending a similar function."
Comment