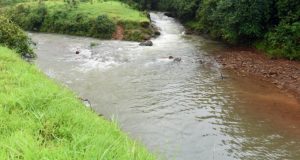 Goemkarponn desk
PANAJI: Chief Minister Pramod Sawant said that under no circumstances will water from Mhadei be wasted while stating that his Government is contemplating installing a hydroelectric project on the river.
"Under no circumstances will water from the Mhadei be wasted. Government is contemplating installing a hydroelectric project on the river for which a panel of experts is already formed," said CM Sawant.
He further said that Goa is still dependent on the neighbouring Maharashtra State for water supply and that Government is very serious about providing potable water to the people and has spent almost 20 crores to construct this water pumping station.
Urging the people not to waste water, Dr Sawant said that Government is charging only Rs.2.70 for 1 MLD water from each household, but the actual cost of that water after purification works out to  Rs. 16.75.
"Government is spending almost 15 rupees after 1 MLD. He said before wasting water, we need to understand that Government is spending money to purify it, he added. Goa has earned itself the unique distinction of becoming the first Har Ghar Jal State in the Country," he informed.
He also assured to complete of the approach road and infrastructure of the industrial estate at Latambarcem within a year. Under the Swayampurn Goa concept,  Goa Government is becoming self-reliant in every sector.
"We have successfully provided benefits of State and Centrally  Sponsored Scheme to the people of Goa," he added.
Sawant said to make villages fully developed, panchayat representatives, SHGs, and youths have to take the initiative to promote agriculture and other activities.
"Itis my commitment to uphold the sentiments of Goans attached to the river Mhadei. Unfortunately, the 7 legislators from opposition benches have chosen their political agenda over the larger interest of Goans," Sawant added.
He also resolved to stand firm on Goa's rightful claim over utilising Mhadei waters.
Comment