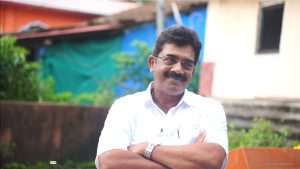 The BJP State President Sadanand Shet Tanavade was elected to the Rajya Sabha from Goa unopposed, creating a history of sorts in Goan politics. Goemkarponn Editor Suraj Nandrekar speaks to the newly elected MP about his priorities, party politics, opposition charges and the defection of Congress MLAs.
Excerpts…. 
Suraj Nandrekar (SN): Congratulations Sadanandbab, you have created history in Goan politics by becoming the first candidate to win Rajya Sabha elections unopposed. How is the feeling?
Sadanand Shet Tanavade (SST): First thing there is a
kind of satisfaction. Reaching position of Rajya Sabha member from being a simple BJP karyakarta. I thank all BJP karyakartas, office bearers and the Chief Minister for giving me this moment. Though the opposition said they boycotted the elections, nonetheless, they gave me an opportunity of being first candidate to get elected unopposed.
SN: Tell us about your journey from this old ancestral house. Did you ever think you will be corridors of power in Delhi at some point of time in your political career?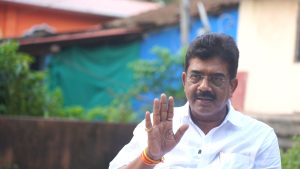 SST: Never, I do not have a political background and hence never thought I would reach here. I studied in Government school Pirna and then Shantadurga Vidhyalaya.
SN: As you speak we can see tears rolling down your eyes, this must be a very emotional movement for you?
SST: Yes indeed. I must tell you after I finished my schooling here in Pirna, I went to Higher Secondary and college in Panaji. Thereafter, I worked for Goa Telecommunication and completed my post graduation besides diploma in marketing management, diploma in personality management and then in 1991, I was elected as panch, sarpanch and that is when my political career took off. I became a swayamsevak of RSS and from there on the confidence started building.
SN: How did the joruney with BJP start? 
SST: After I won panchayat elections in 1991, I joined BJP when Manoharbhai Parrikar was contesting Lok Sabha elections from North Goa. When the BJP work started in Goa I was booth president in Pirna. Before this I was also ABVP worker, Vishwa Hindu Parishad and Ram Sheela pujan campaign.
SN: Did you ever feel of making a comeback in politics after loss in 2007 elections and subsequent denial of ticket by party in 2012?
SST: I knew BJP does not betray its workers. And despite losing 2007 and then denial of ticket in 2012, I did not revolt against party. I stayed with the party. Like me many leaders lose but only because I was with BJP I remained in the limelight and shouldered responsibility of various party positions in mandals, district levels and hence I remained actively involved in politics. That is the reason I feel why I became a praliamentrian today and also BJP State president.
SN: What is the difference between BJP and other parties? What is your message to the karyakartas?
SST: I realised that if you give selfless dedication to teh party, it recognises your efforts and rewards you. Many times the things don't go the way you want them to be, but you need to keep patience things fall in place. It feels great when our own karyakarta Rajendra Arlekarji is the Governor of a big State like Gujarat. He was rewarded for his loyalty. There is a satisfaction that this happens only in BJP as people like me and Arlekar from common background get big positions. You need to have patience. If after denial of ticket I had revolted against party, nobody would have even remembered my name today. You need to stay with the party when it need you. This example is set everywhere across the country by BJP.
SN: Now that you are Rajya Sabha MP, what are your priorities for Goa?
SST: I will take oath on Monday, I am new to Central politics and would know what role I have from party leaders. I worked as MLA but as you know Goa is a small State and there is a huge difference between the two and I will know the actual work only after start working and see what will be my priorities for Goa. Definitely I will take up issues related to Goa. We have BJP governments both in Goa and Centre and hence I effort would be to get maximum benefit for Goa.
SN: There are many issues in Goa that needs solution from Centre like Mhadei, Coal, double tracking. What would be your efforts to resolve this?
SST: I feel many of these issues have been created for elections. BJP is serious on the Mhadei issue. Our CM Dr Pramod Sawant has already appealed in the court and court has been accepted. People who do not know the issue are politicising it. National Highways, Tamnar project are necessity for Goa in a long run. Today we have power shortage so we need that project. Opposing just for the sake of it would not help. Development has to happen. Like for Coal the issue and problems were for Mormugao taluka but people from other talukas protesting, demonstrating unnecessarily did not bear any fruit. When elections came BJP's stand was vindicated and that is the reason we were successful in coming to power in Goa for the third time.
SN: You are speaking of Party loyalty but under your presidentship, you split the rival party twice in 2019 and 2022. Was this right?
SST: As you can see, entire India politics. People are with Narendra bhai Modiji because of his work and BJP won in Goa thrice. The development works taken up by the BJP. Now the opposition leaders feel it is the BJP which can do the development and take India ahead. We are a national party and cannot say no to any leader. So whoever comes, we are ready to welcome them. I am glad the leaders who have come into the fold are following party's footsteps and taking our work ahead.
SN: Do you think the Modi Sarkar will be back to power in 2024 amidst the burning issues like Manipur?
SST: I am 100 p.c sure, last time we got 303 seats. Definitely under the leadership of Shri Narendra Modji we will win 325 + seats in 2024.
Comment