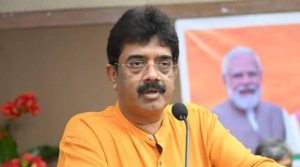 Goemkarponn Desk
PANAJI: BJP State President and Rajya Sabha MP Sadanand Shet Tanavade today said that Goa Legislative Assembly might be the first to see 33 percent reservation for women in the upcoming 2027 polls if census and delimitation process completes before that.
Maintaining that 13 seats would be reserved for women in Goa Legislative Assembly, Tanavade assured cabinet berth to some of the women MLAs.
Addressing a press conference, Tanavade said as promised by the Narendra Modi Government, the Women's Reservation Bill will be implemented for the 2029 Lok Sabha election.
"If the census and delimitation process completes by 2026, the elections for Goa Assembly in 2027, we can implement it," said Tanavade
Tanavade said that BJP is fully committed towards implementation of the Bill and we don't want any hurdles in it, that's why we are not implementing it in 2024.
Tanavade also said that his party cannot allow cabinet berth to their three women MLAs as two of their husbands are already ministers in the current cabinet.
"We cannot give Cabinet berth to our 3 women MLAs since two of their husband's are already Ministers; there cannot be two Ministers within one family," said Tanavade
Poriem MLA Dr Deviya Rane said that "I am just learning. I don't have expectations, I have just become an MLA. Let me learn,"
Sawant said that as of now, the Bill will be tabled and passed during the next scheduled session of the State Assembly.
"No notification has come from the Centre asking us to pass the Women Reservation Bill in urgency…let the delimitation and other procedures be completed and when we will have our own session (Goa assembly session) we will pass the Women Reservation Bill," he said.
He further said that "in case if a proposal comes from the Centre asking us to pass the Bill in urgency, we will call for a special session and pass the bill. We will do it".
The draft legislation- Nari Shakti Vandan Adhiniyam (Women's Reservation Bill), which was passed by an overwhelming majority in both Houses, provides for a 33 per cent reservation for women not just in the Parliament but also in state legislative bodies. In Goa, a total 13 seats out of 40 would be reserved for women.
The Chief Minister said that the Bill has already been passed in the Lok Sabha and Rajya Sabha and the States are waiting for the directions from the Centre.
Comment