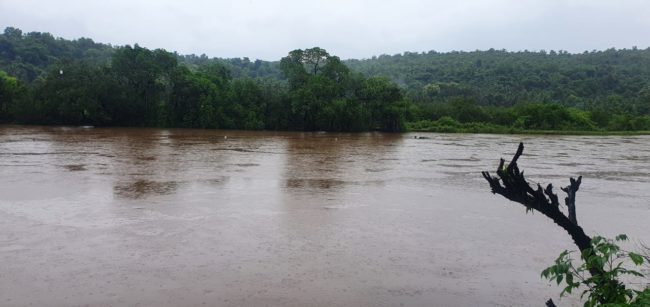 Goemkarponn desk
CANACONA: All the rivers in the taluka flowing close to the danger mark, standing crops on large tracts of land have been destroyed.
The non-stop rains that have been lashing Canacona taluka for more than a week now have disrupted normal life, especially in the rural areas along the Talpona, Galgibagha and Saleri rivers and their tributary streams.
The rain gauge station in Canacona has recorded a rainfall of 12.2mm for 24 hours ending on 8.00 am of Thursday while the total seasonal rainfall in the taluka is recorded at 1749.2mm since the 1st of June.
The reading reported at the observatory at Chaudi, which records the amount of rainfall in the taluka is low on Wednesday. Still, if one looks at the water flow in the three major rivers and their tributaries, it seems that the rain that fell in their catchment areas was much more than that.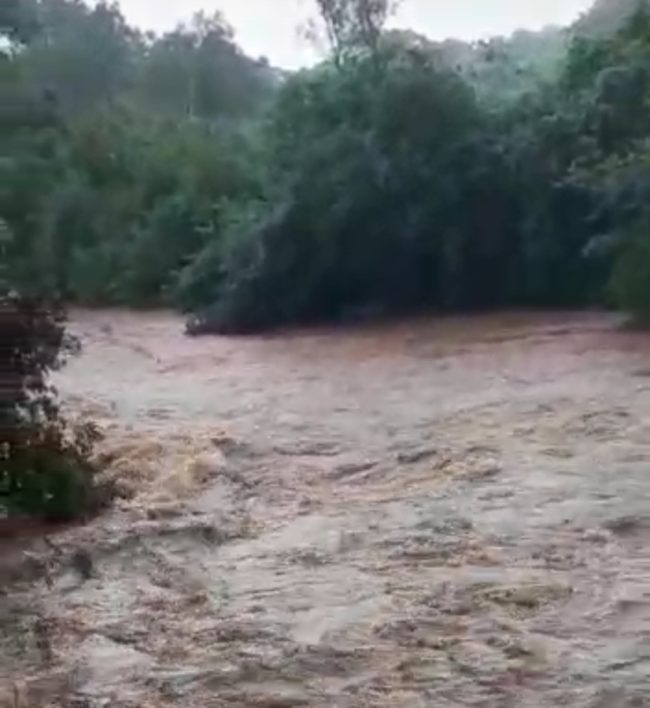 At the time of the high tide, the water rose up to the brim of these rivers, which was reminiscent of the 2nd October flash flood in 2009.
However, due to the taluka's hilly topography, there was not much water logging except near the mouth of the rivers.
However, the residents having houses in the low-lying areas on the bank of Talpona river, Galgibagha river, Agonda river and Saleri river, however, had to remain alert as the water was dangerously flowing close to the danger line sources informed.
Heeding to the advisory issued by Indian Meteorological Department, all the fishermen from the taluka pulled their traditional and fiber boats to safety as huge waves were crashing onto the about 10 km coast of the taluka since last week.
The fire and emergency office at Mastimoll informed this correspondent that there were stray incidents of tree uprooting and waterlogging in some areas; however, there was no much economic loss.
Large tracts of agricultural lands with standing crops in the taluka, especially paddy, continued to be flooded.
There are reports of damage to the paddy fields as farmers had just transplanted the paddy seedlings. The excess water has made the roots rot; many farmers complained.
Due to the continued heavy water flow, the freshly transplanted paddy in fields close to the rivers has also washed away.
"The rains have already destroyed half of the paddy crop in most areas" complained a farmer from Gaondongrem.
With the IMD predicting more rain for the next two days, the affected farmers are keeping their fingers crossed. They will approach the Zonal Agricultural Office to file for compensation once the weather clears, informed another farmer.
Comment