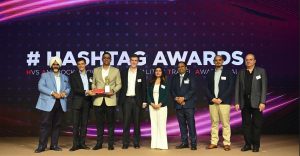 Goemkarponn desk
PANAJI: After two days of insightful and forward-looking discussions and deliberations, HVS ANAROCK HOPE 2023, India's most exclusive Hospitality Summit held at the Taj Resort & Convention Centre, Goa concluded in a spirit of optimism. Showcasing India's global stature as a hospitality industry powerhouse, HOPE (Hospitality Overview Presentation & Exchange) brought together Indian and international hospitality players for two days of high-octane knowledge exchange, networking, and also celebration. The select gathering over the two days witnessed more than 300 hospitality and travel eminences, and the senior leadership of domestic and international hotel chain operators, as well as hotel owners, investors, travel gurus, thought leaders and influencers from across the globe. This annual event promises to redefine how hospitality confers, networks, and celebrates success.
An HVS ANAROCK Presentation, Spotlight on India: No looking back, by Mandeep S. Lamba—President, South Asia, HVS ANAROCK—launched the agenda on Day two of HOPE 2023. Mr. Lamba not only emphasised on the sectorial growth that the country has witnessed viz-a-viz tourism, travel and hospitality but also gave an overview of what India is going to witness in terms of infrastructural development in the coming years.
The summit concluded by conferring the #HASHTAG (HVS Anarock Showcase Hospitality & Tourism Awards Gala) Awards, which honoured the best-performing hotel general managers and hotels from across categories in a glittering ceremony.
Finding mention in the #HASHTAG roll of honour are-
BEST HOTEL AWARDS IN BUSINESS SEGMENT
The Hotel of the year: ECONOMY – Hometel Chandigarh
The Hotel of the year: MIDSCALE – The Fortune Park Lake City, Thane, Mumbai
The Hotel of the year: UPSCALE – Hyatt Place, Hyderabad
The Hotel of the year: UPPER UPSCALE – Radisson Blu Hotel Guwahati
The Hotel of the year: LUXURY – The Leela Palace Bengaluru
BEST HOTEL AWARDS IN LEISURE SEGMENT
Resort of the year: MIDSCALE – Ramada Resort Kochi
Resort of the year: UPSCALE – The Savoy IHCL SeleQtions, Ooty
Resort of the year: UPPER UPSCALE –Vivanta Dal View Srinagar
Resort of the year: LUXURY – Alila Fort Bishangarh
BEST GENERAL MANAGER
Best General Manager: ECONOMY – Ankush Sharma, Ginger, City Centre, Noida
Best General Manager: MIDSCALE – Suresh Kumar, Ramada by Wyndham, Kochi
Best General Manager: UPSCALE – Manish Yadav, Fortune Select Forest Hill, Kasauli
Best General Manager: UPPER UPSCALE – Amit Kumar, Sheraton Grand Resort and spa, Chennai
Best General Manager: LUXURY – Rajiv Kapoor, Fairmont Jaipur
Future Leaders Annual Group Submission Hospitality Industry Projects (FLAGSHIP)-
The Institute of Hotel Management, Pusa, New Delhi
General Manager of the Year- Amit Kumar, Sheraton Grand Resort and spa, Chennai
HOPE 2023 Sustainability champion of the year award – ITC Hotels
HOPE 2023 Industry Leader of the year award – Puneet Chhatwal, Managing Director & CEO, IHCL
Commenting on the proceedings on an inspiring concluding day, Mr Mandeep Lamba, President (South Asia), HVS ANAROCK, said, "We couldn't be happier at the response to the HOPE Summit and #HASHTAG Awards, and with the many positive discussions that have taken place these last two days. With its centuries-old traditions of hospitality, India has the power to drive the conversation on and around the hospitality industry, and I believe the summit and awards will go a long way in expanding the country's influence in this key sector. I congratulate all the winners of the #HASHTAG Awards and thank all our distinguished speakers and guests who came here, and who have contributed in making this inaugural edition of HOPE a tremendous success."
Comment