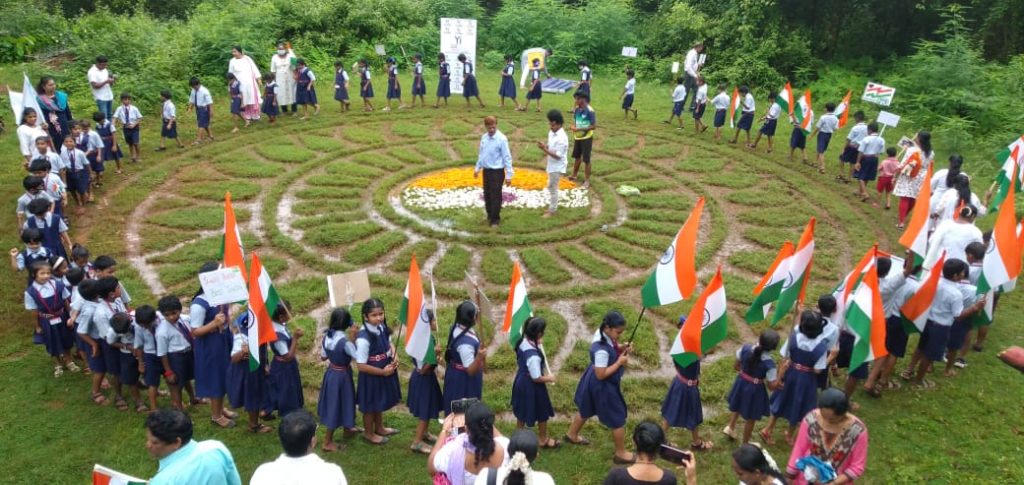 Goemkarponn desk
PONDA: PM Prime Minister Narendra Modi lauded artist Sagar Mule during the Mann Ki Baat programme to preserve age-old Kavi art on the verge of extinction.
This has served as a significant boost for Adpai Ponda artist Sagar Mule.
As a contribution from him to the country, on the occasion of Azadi Ka Amritmahostav, Mule has created a unique land art to celebrate 75 years of Independence.
Sharada High School Students, along with teachers, visited the unique art on the occasion of the inauguration of land art with Tiranga.
Venkatesh Chanekar, Headmaster of Primary School, lauded Sagar for taking the village name to such a height with his unique arts.
Mule has used these traditional agriculture tools to remove grass and create unique land art on land located near his house.
The artwork is created on a piece of land owned by Union Minister Shripad Naik. The artwork was inaugurated on 13 August.
It may be recalled that Mule has contributed to the revival of traditional age-old Kavi art, which once was usually painted inside walls of the temple using traditional natural colours, including mud, for several centuries.
Comment