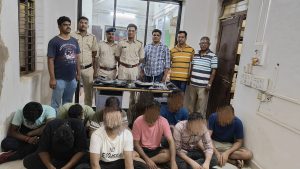 Goemkarponn desk
VERNA: Verna Police has arrested 10 persons in connection with the IPL betting racket at Cansaulim.
The accused has been identified as Nitin Singh, s/o Jaypratap Singh, age-31 years, N/o Bilaspur, Chhattisgarh, Sachin Singh, s/o Jaypratap Singh, age-24 years, N/o Prayagraj, Uttarpradesh Sourabh s/o Milind Deshpande, age-26 years, N/o Chinchwad, Pune, Maharashtra, Sunny Jaiswal s/o Omprakash Jaiswal, age-31 years, N/o Southwest, Delhi, Satrendra Kumar Singh s/o Manichadra Singh, age-27 years, N/o Allahabad, Uttarpradesh, Sunil Kumar Rai s/o Vijaykumar Rai, age-27 years, N/o Sundargarh, Odisha.
Also, Mitesh Pradhan s/o Kuber Pradhan, age-23 years, N/o Raigad, Chhattisgarh, Nand Kishor Sahu s/o Babdram Sahu, age-32 years, N/o Durg, Chhattisgarh, Dalip Singh s/o Om Singh, age-24 years, N/o Churu, Rajasthan and Kishan Singh s/o Guman Singh, age-21 years, N/o Jhunjhuna, Rajasthan.
The accused were caught red-handed while accepting bets on the ongoing twenty-twenty IPL Cricket match played between Kolkatta Night Rider V/s Sunrise Hyderabad.
The police seized from their possessions 31 mobile phones, 07 laptops, 3 internet routers and other electronic accessories and the same were attached under panchanama, all W/Rs.10 Lakhs Approx.
Comment