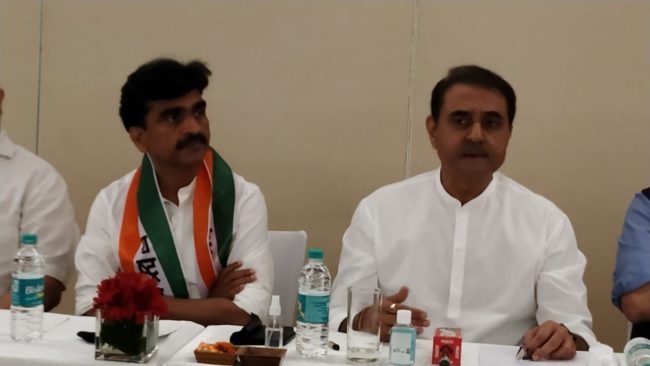 Goemkarponn desk
PANAJI: Today, former BJP MLA and Minister Filipe Neri Rodrigues resigned from the BJP and joined the Nationalist Congress Party (NCP). Rodrigues will be contesting elections from the Velim constituency.
"Today, we declare Filipe Neri Rodrigues as a candidate for Velim constituency; the final list of candidates will be declared tomorrow at 3pm," said NCP National General Secretary Praful Patel.
He further said that NCP is a serious contender for this election.
"NCP is a secular party, and people have Goa of always accepted it with open arms. It is very clear that no party will get an absolute majority in Goa," he added.
The NCP further announced the names of 5 more candidates, namely Filipe Neri Rodrigues from Velim, Ravindra Talaulikar from Madkai, Godfrey Lima from Thivim, Aloshan Dsilva from Quepem and Domicio Barreto from Sanguem.
"We made an offer to Congress to jointly contest Goa polls, but in vain. They neither said yes nor no," he said.
However, the former union minister said the NCP-Shiv Sena alliance will not contest all the 40 assembly seats in Goa.
"It's Congress' misfortune that they didn't form an alliance with us. We will show the power of the Shiv Sena-NCP alliance in the upcoming Goa Assembly elections. Only our party will come to power," he added.
"The NCP has been contesting elections in Goa since the party's formation in 1999. We have always been fighting alongside the Congress, with whom we had an alliance till 2017. The NCP has given Goa several Ministers in the past," he said.
Remarking that the NCP had always tried to keep like-minded forces together, Mr Patel said that the Congress' vacillation after the 2017 election had resulted in BJP forming the government in Goa even though the Goa Forward Party (GFP) and the NCP had been ready with their letters of support to the Congress.
"The NCP did its duty in 2017 to give the Congress its fullest support. But despite the latter emerging as the single-largest party with 17 MLAs, it failed to form the government then. I'm sure people of Goa will ask Congress this question in the forthcoming election," said the NCP leader.
Comment