Goemkapronn desk
CANACONA: Even though we are just halfway through the 2022-23 Turtle Nesting Season, Canacona's twin Turtle Rehabilitation Centres at Agonda and Galgibaga were amok on a record-breaking visit by mother Turtles, as both the centres are together hosting a record of 7400 Olive-Ridley eggs, unmatched ever in the past seasons.
Incidentally, the overall 55 Pits at Agonda (42) and Galgibaga (13) are also a record-breaking visits by Mother Turtles on the Canacona coast, beating the previous known records of 39 Pits and 4437 eggs on Canacona beaches of Agonda(35) and Galgibaga (4) with 4002 Eggs and 435 eggs, respectively in the Turtle Nesting season of 2020-21.

Similarly, the last Turtle Nesting Season (2021-22) also had 39 Pits, with Agonda Turtle Rehabilitation Centre accounting for 28 Turtle-Nests, and Galgibaga Turtle Rehabilitation Centre played host to 11 Nests together, releasing just about 3000 hatchlings into the Sea.
An interesting fact is; this year, the Season is only halfway down, and with the most favourable weather an added point, if this weather continues to remain conducive, Forest department (Wildlife) officers are hopeful about more arrivals of mother turtles to lay eggs on Canacona coasts to keep on breaking its own records in the days and months to come.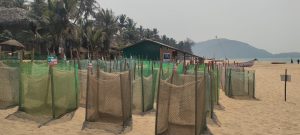 So far, only around 80 hatchlings from a lone pit (the first of the season-transplanted from the neighbouring Talpona coast) at Galgibaga are released into the Arabian Sea. The procreation period for the endangered sea species of Olive Ridley is anywhere between 48-55 days.
Galgibaga Turtle Rehabilitation Centre expects fresh hatchlings any of these days from the lot of the second Pit transplanted from Agonda shore on 28th Dec'22).
With the two Turtle Rehabilitation Centres operated at Agonda and Galgibaga, Canacona is also Headquarters of South-Goa Marine Range Headquarters at the sprawling coastal land acquired by Forest Department at Galgibaga.
Comment