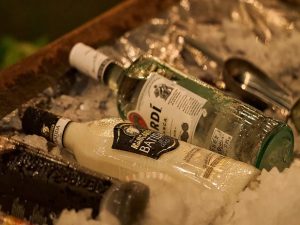 Goemkarponn desk
PANAJI: Kerala which derives sizable portion of its revenues from liquor is now eyeing the possibility of increasing the revenue from this source. It is trying to derive a lesson or two from Goa on how to market liquor.
WHAT is the similarity between Goa and Kerala? Both are on many tourists' itinerary endowed with breathtaking scenery and both like to raise a toast.
Now Kerala which is also heavily dependent on excise collection (derived from selling alcoholic beverages) is keen to take a leaf or two from the Goan experience of retailing liquor.
News is that the Kerala government is planning to depute some of its excise department staffers to tour Goa and understand how liquor is marketed in the coastal state.
Remember that Kerala derived over ₹25,000 crore in fiscal 2022-23 by retailing liquor but clearly the Pinarayi Vijayan-led LDF government wants more pegs!
While the excise collections in Goa are far, far lower than Kerala the latter seems to have felt that the Goan government is doing something right which can be emulated by God's Own Country.
Why this move?
The most obvious reason why Kerala is eyeing liquor revenue is to draw in the tourists. While the state has branded itself as a very popular tourist destination, a free and easily accessible liquor retailing policy can draw in the tourists by the planeload.
The policy in vogue allows many tourists visiting Goa (particularly domestic) to carry up to five litres of liquor (in hand baggage) though some states frown on this practice.
Also Read: With highest number of star hotels, Kerala eyes increased inflow of tourists
Yes, while liquor retailing in Kerala is controlled by the state government (through the state beverages corporation), the idea of having to raise a toast at one of the govt-run liquor outlets can make any tourist squirm.
Fruit based liquor drinks
One obvious point of interest for Kerala would be how Feni, a drink derived from cashew, is produced and marketed. Interestingly enough, the Kerala government had mooted, last year, the idea of making liquor from fruits and other cereals but this has found no takers.
Microbrewery experience
Another idea which the Kerala government toyed with was starting microbreweries, on the lines of what is prevalent in Bengaluru but this too hasn't hit the right chord.
Comment