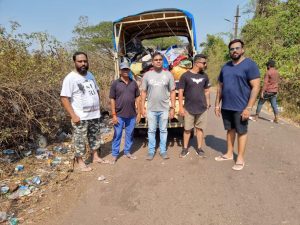 Goemkarponn desk
PANAJI: A garbage-laden pickup truck that was dumping waste by the roadside at Cumbharjua was intercepted by an alert resident on Sunday.
North Goa District President of Goa Youth Congress Rinaldo Rozario, who is also a resident of Cumbharjua, was passing by and spotted the pickup truck driver illegally dumping a full load of mixed garbage along the Cumbharjua ferry road waste near Funskool on Sunday morning.
He pulled up the driver and another three persons who were accompanying him for indulging in indiscriminate roadside dumping and reprimanded the four persons.
Rosario confronted the persons and contractor, especially the driver, who didn't possess a driver's licence, for not providing details about their activities.
Rozario also alerted the panch members of the local panchayat as well as other residents regarding the incident.
"Such incidents have been happening on numerous occasions. And unfortunately, such miscreants who indulge in clandestine roadside dumping are let away without any punishment. It is high time citizens ensure that our villages and towns and maintained clean and hygienic. It is everyone's responsibility to ensure we follow this strictly," Rozario said.
"Chief Minister Pramod Sawant talks about garbage management and Swacch Bharat. However, there is no proper segregation and dumping ground for waste," he added.
The truck driver and others were later made to clear the entire stretch of garbage.
Local panch Anuj Naik said that four cameras will be installed to curb this menace.
"We made the scrap collector pick up all the garbage strewn across the area and take it away in his truck as a punishment. This will act as a deterrent," he said.
The stretch is known for indiscriminate roadside dumping, as both sides of the road are always littered with waste.
The state government has recently notified the Goa Model Panchayat Solid Waste (Management and Handling) Bye-laws, 2O22, for handling and managing solid and wet waste in villages.
Comment