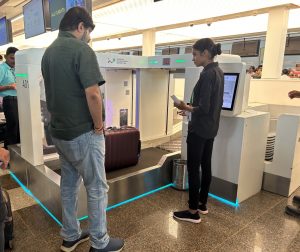 · Revolutionary Self-service Bag Drops (SBD) streamlines check-in process for passengers
Goemkarponn desk
PANAJI: Manohar International Airport, developed and operated by GMR Goa International Airport Ltd. (GGIAL), a subsidiary of GMR Airports Infrastructure Ltd (GIL), is proud to announce that the implementation of cutting-edge check-in facilities at the airport has significantly enhanced the passenger experience. The airport has observed an impressive average of around 40% passenger utilization of Self-service Bag Drops (SBD) and 47% utilization of Common Use Self Service (CUSS) kiosks, revolutionizing the check-in process. The highest utilization achieved was 50% for SBD and 52% for CUSS during the peak hours for all the airlines who have enrolled for CUSS & SBD platform at Manohar International Airport.
SBD services have revolutionized and streamlined the check-in process for passengers and the airport alike. With SBD, passengers can enjoy a seamless drop-off procedure without the hassle of long lines or complicated processes. Similarly, CUSS kiosks have significantly expedited the check-in process for passengers, eliminating the need for queues and reducing the reliance on ground staff. By adopting this shared platform, multiple airlines have provided their passengers with a faster and more efficient check-in experience. CUSS kiosks are conveniently located throughout the airport, from car parks to transit areas, minimizing airport congestion and enhancing overall operational efficiency.
The introduction of these state-of-the-art check-in facilities has addressed the frustrations faced by passengers while waiting in long check-in queues. By reducing check-in time, Manohar International Airport ensures that travellers have more time to explore and enjoy the airport's outlets and amenities. Additionally, the adoption of SBD and CUSS has enhanced terminal capacity and reduced operating costs, providing a win-win situation for both the airport and passengers.
Passengers utilizing SBD are empowered to complete the check-in process independently. They can obtain their boarding passes, print bag tags, and check their baggage without the need for assistance from airport staff. This self-service approach enhances passenger autonomy and expedites the entire check-in procedure.
Comment