Goemkarponn desk
MAPUSA: The bustling market area, fish market, as well as the vicinity near Mapusa Bardez Bazaar and the Collector's Office, have been affected by the flooding in the rains.
With potholes and overflowing gutters adding to the woes, locals demand immediate attention from the authorities.
Electrical appliances and machinery inside the shops are in peril as the water seeps in.. the residents are urging the authorities to prioritize their concerns as the Goa meteorological department has issued a yellow alert for three consecutive days.
Pedestrians and commuters are encountering tremendous difficulties navigating the city, with roads submerged in water and potholes turning into treacherous traps.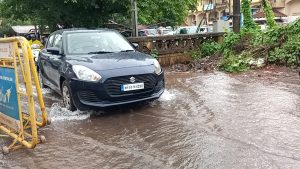 Faced with this predicament, many drivers have resorted to taking alternate routes, leading to congestion and wrong-way traffic.
In a remarkable display of community initiative, concerned citizens from Siolim have taken matters into their own hands by planting plants in potholes, making them visible and preventing accidents.
This act serves as a stark reminder of the urgent need for attention to the deteriorating road conditions.
If prompt measures are not taken, Mapusa risks becoming a river in its own right. The inconvenience the public faces is palpable, with walking becoming a challenging task in the waterlogged streets.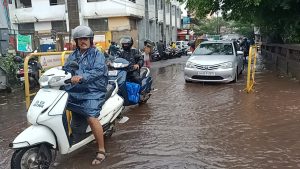 The situation in Mapusa demands immediate attention and prioritization by the concerned authorities. The well-being and safety of the citizens are at stake, and swift action is needed to prevent further damage and ensure the city can return to normalcy.
Comment