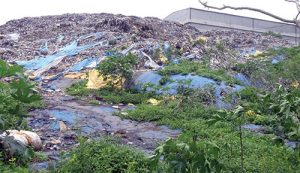 Goemkarponn desk
MARGAO: Despite spending crores of rupees and several meetings for a decade now, the Sonsodo dump refuses to move and continues to pile up further even as the Government assured to clear the same with many deadlines.
Meanwhile, the Margao MLA Digambar Kamat, in a decade and a half, has moved from BJP to Congress and, vice-versa, the Sonsodo waste is in the "Jaise The" (refuses to move) position.
On Friday, Margao MLA Digambar Kamat visited the site along with Goa Waste Management Corporation officials, held a site inspection to oversee the ongoing remediation and bailing work at the Sonsodo garbage dump and gave another assurance of clearing the dump.
The Waste Management Corporation has set a deadline of February 2023 to clear the legacy dump.
Former Chief Minister and Margao MLA Digambar Kamat, along with Goa Waste Management Corporation (GWMC) Managing Director (MD) Levinson Martins, today inspected the Sonsodo Garbage treatment plant.
"Unless somebody monitors the issue, it is impossible to resolve it, and now, since solid waste management is appointed as the nodal agency will monitor the situation every 15 days," said Kamat after the inspection.
He further said that the department will check for progress, and what needs to be done will be done.
"15 days of monitoring will help us check whatever that has been decided has been implemented or not or whether there are some hurdles, all this will be checked upon," he added.
When we asked if there were financial issues with MMC, Digamber said the bills needed to be issued fast.
"For that, we have asked them to appoint some agencies supplying raw materials and different machinery required at the plant," he said.
GWMC MD said that small things have to be tweaked here as the waste comes here on a daily basis, and we, too, have to make daily decisions.
"Payment also should be quick, and we are streamlining the matter, and as sir has said that we will visit the plant every 15 days and review everything," said Martins.
He further said that a concessioner will be appointed at the plant to manage day-to-day waste, and in time, basic machinery will be repaired.
"Legacy waste, we are trying to complete everything by February 2023. There is some issue due to the RDS moving fast. So once RDS is ok, we can put more waste,' he added.
Meanwhile, Saligao panchayat had recently strongly objected to the transportation of the Sonsodo waste for treatment at the solid waste treatment plant in the village, even as other panchayats surrounding the plant are gearing up to oppose the move.
Saligao Sarpanch, Lucas Remedios, in a letter to the Managing Director of the Goa Waste Management Corporation (GWMC), questioned the department's decision to allow waste of Sonsodo to be treated at the Saligao treatment plant on a daily basis.
Comment