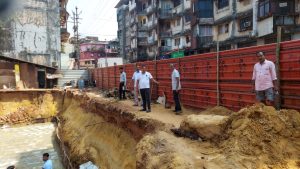 Adds sale of fish outside the market will not be permitted
Goemkarponn desk
PANAJI: Mormugao Municipal Council Chairperson Leo Rodrigues on Saturday morning said that the sale of fish in wholesale or retail outside the Vasco fish market complex will not be allowed, and the MMC will take necessary actions as per the show cause notice served to fish Wholesalers. Rodrigues has appealed to fish wholesalers to sell fish wholesale at the existing market between 6am and 10 am.
"We are firm that we will not allow the sale of fish anywhere outside the Vasco fish market. The MMC has already served show cause notice to wholesalers that the council will seal their shops and confiscate goods if the wholesalers don't stop the sale of fish within seven days, and the action will definitely be taken as per law. These fish wholesalers don't have valid trade licences, and the sale of fish within a 1 km radius of the fish market is illegal as per the municipalities act," said Rodrigues.
"We have in the past had a meeting with all the fish vendors of the Vasco fish market, and we had promised them that we would stop the sale of the fish outside the existing market, and we also had a meeting with the Wholesalers, and they had agreed to stop selling fish, and things were moving smoothly. However, in the recent past, the wholesalers have begun selling fish again, and the fish vendors in the Vasco fish market have complained to us that they don't get customers because of this activity, due to which the MMC had to send notice to the Wholesalers "said Rodrigues
"We, however, appeal to all the wholesalers to stop the sale of fish outside the Vasco fish market but instead arrive at the existing fish market and sell their fish wholesale between 6 am to 10 am in the morning. The fish wholesalers have got a sopo in the existing market and can utilise that space to sell fish wholesale, but they can sell only in the morning before 10 am, after which they must not sell anywhere else. We had discussed the point during the joint meeting between fish vendors, wholesalers and MMC, and the fish vendors had agreed to this. This way, the Wholesalers will get a chance to sell their fish, the people will get an option, and the fish market vendors will not have an objection and it will be a win-win situation for everyone. As far as a dedicated wholesale market is considered, we can think of it at a later stage," said Rodrigues.
Comment