Goemkarponn desk
VASCO: Mormugao Municipal Council (MMC), led by Chairperson Leo Rodrigues and city ward councillor Shami Salkar, Girish Borker and staff, including market inspectors, conducted a surprise anti encroachment drive in the Vasco market.
While MMC Chairperson Leo Rodrigues, along with other Councillors, personally checked for encroachment by roadside fruit vendors, the staff and workers began confiscating goods on vehicles that had also arrived at the location.
Sources in MMC said that MMC plans to shift roadside vendors into the temporary fish market shed to accommodate all fish, chicken and fruit vendors at one location and clear encroachment across Vasco roads.
Speaking to the media, MMC Chairperson Leo Rodrigues said that roadside vendors had been warned about encroachment during the drive, and the action, including hefty penalties, confiscating of goods and termination of licences, would be initiated from Monday.
"We have told the vendors to shift to the temporary fish market shed and stop operating from roadsides. Some Goan fruit vendors selling traditional products would be shifted to the newly developed Traditional fruit and vegetable Market, and some would be shifted to the temporary fish market shed. We have already made a list of vendors and instructed our staff and inspectors to shift them accordingly. We will not allow anyone to operate from roadsides," said Rodrigues.
"We have to adjust this for the next two years till our new Vasco fish market is ready, and once that project is ready, we will move the fish vendors and vendors selling traditional fruit and vegetables black to the New Fish market complex. This will make the temporary fish market shed area free, and the existing fruit vendors will then be accommodated here permanently. There will be a systematic dedicated and separate fish market, fruit Market, vegetable market and traditional products market for Vascokars. We have taken this drive because the local Goan vendors selling traditional products and occupying the recently renovated market don't get business because people are used to buying from roadside vendors," said Rodrigues.
Vasco city ward councillor Shami Salkar said that the MMC had already begun to clear encroachment from the Footpath along the FL Gomes Road that was being used by fruit vendors.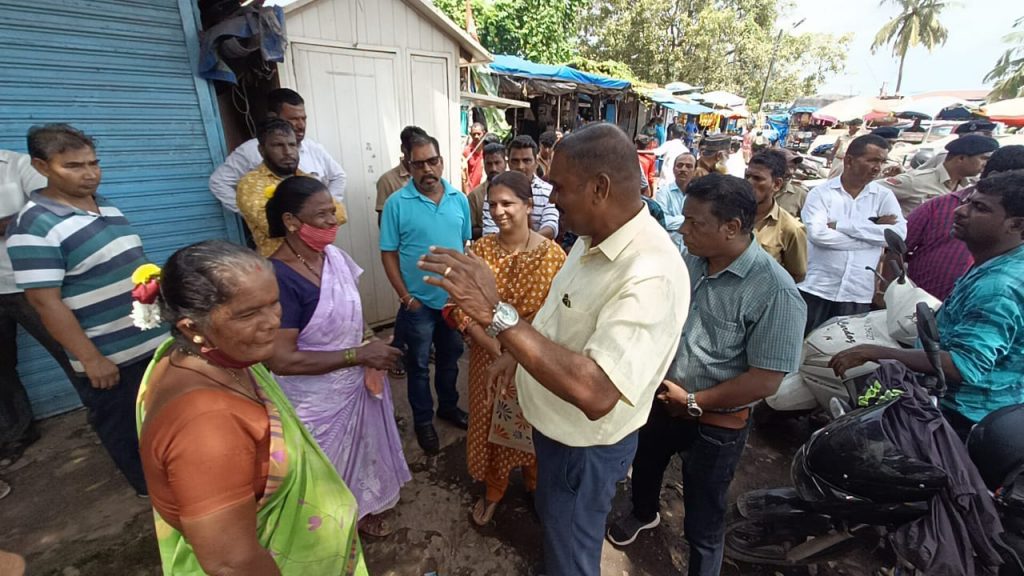 "The Footpath is cleared now, and the fruit vendors have been pushed inside, and we had given them time to ensure that there is absolutely no encroachment. The fruit vendors have agreed and cooperated, and whatever small issues are faced by these fruit vendors will also be addressed. We are also trying to clear the road next to the Salgaoncar office, which causes heavy congestion in the evening due to vendors operating from the road, and we will shift all these vendors into two markets that have been developed as of now so that roads and footpaths are cleared. The fruit vendors along the Footpath on the FL Gomes Road have done a great job, and the entire Footpath is fully cleared, " said Salkar.
"We also plans have been made to accommodate additional vendors temporarily for the Swayampurna Chavati Bazaar at a different location so that people looking for items during the Ganesh Chaturthi festival can carry out their shipping at a different location," said Salkar.
MMC Councillor Girish Borker said that MMC Chairperson and City ward councillor Shami Salkar had taken the drive because many Vascokars had complained of the parking issue
"We have to hence clear vendors selling on roadsides and operating from the Footpath. Some fruit vendors deliberately encroach on more areas despite having sufficient space, and MMC must not warn them further but initiate strict action. This will be our final drive, and we will not warn any further, and I appeal to MMC to directly start confiscating goods and issue penalties to vendors who don't listen to our requests and warnings," said Borkar.
Comment