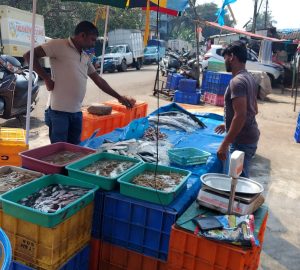 Goemkarponn desk
VASCO: Mormugao Municipal Council (MMC) on Thursday served notices to fish wholesale outlets operating at Kharewado while giving them an ultimatum of seven days to stop their buisness, failing which MMC will seal their shops and confiscate goods at the outlets.
MMC notice also mentioned that the sale of fish within a radius of 1 km from the fish market was illegal under the law and that the activities must be stopped immediately.
The wholesalers who received the notice have now said that the MMC has been travelling their buisness while doing nothing about the people selling fish along roadsides and women selling fish door-to-door across the entire city and its suburbs.
Fish wholesaler Pashao Montero said that all the people from the city would come to the wholesale market because the fish was fresh and available at cheaper rates.
"Even if we close our shops, people come to our house and insist that we give them fish, and they don't allow us to even sleep, and this is the tremendous support that we have from the people. The reason is that we sell better quality fish at half rates, and people are not confined or forced to go to the fish market and buy in retail or small portions," he said.
"The fish market vendors have no licence and are basically either Portuguese passport citizens or from the Karwar side, whereas we are fishermen who sell our fresh catch of fish to people and hotels. MMC staff also sometimes take fish from here, and people are happy about our presence here," said Montero.
"We are not doing anything illegal, and we are traditional fishermen who catch fish and sell good fish to the people, but the MMC thinks that we are illegal as if we have smuggled the fish and no matter what raids they carry out, they will get nothing, but fish from our stalls Let the people tell us to stop, and we will stop immediately," said Montero.
Another wholesaler Lawrence D'Souza said that people had been demanding that fish be supplied to people at a wholesale rate.
"We have our own canoes and own boats, and we spend money on labour, fuel and finally get a catch of fish that we sell here. What is the issue with us selling our own fish at good rates and without any complaints from the people? We cannot survive if we do not sell our fish, and I think the MMC must reconsider their decision so that we, as fishermen, can survive. We cannot be deprived of our livelihood even when we are doing our job in all honesty and offering good fish at low prices," said D'Souza.
Comment