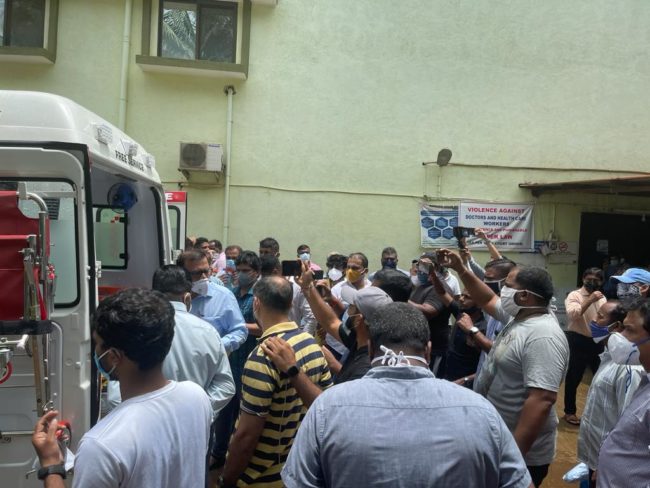 Goemakrponn desk
CURCHOREM: Amit Patkar, prospective candidate for the upcoming Assembly Election and social worker from Curchorem Constituency and Curchorem Congress block and citizens of Curchorem today, took Morcha on Community Health Center Curchorem for not allowing permission to operate Free Ambulance Service for people of Curchorem and surrounding Constituency.
Patkar said that even after compiling with necessary guidelines issued by the Directorate of Health Service, permissions were not granted.
While addressing media, Amit Patkar said, "The Ambulance is for service of people and free of cost equipped with all support system inside it. The permission has not been granted, citing reasons which were complied duly on time. We had given the ultimatum that if permission is not given, we will take Morcha to Health Center and question the officer why there is so much delay even after compiling with all orders."
Curchorem Block Congress and citizens of Curchorem participated in the Morcha and questioned the Health Officer.
"If still the permission is not granted, the citizens of Curchorem will sit on a chain hunger strike in front of Health Center till permission is granted," they said.
The Health Officer, in his statement, said that he inspected the Ambulance today again, and he feels that Ambulance meets all requirements. By tomorrow he will address it to The Director of Health Service, who is the authority to give permission.
The Morcha started from Curchorem Market and ended at The Community Health Center Curchorem.
Amit Patkar bemoaned that Goa has never seen such an insensitive, arrogant and rude government.
He said this BJP government is forcing people to come on the roads to provide a cardiac equipped ambulance facility to Curchorem.
Stating that the people's protest was peaceful despite being frustrated, Patkar expressed the hope that the government will meet the genuine demand of the people and the politics over health will stop.
Comment