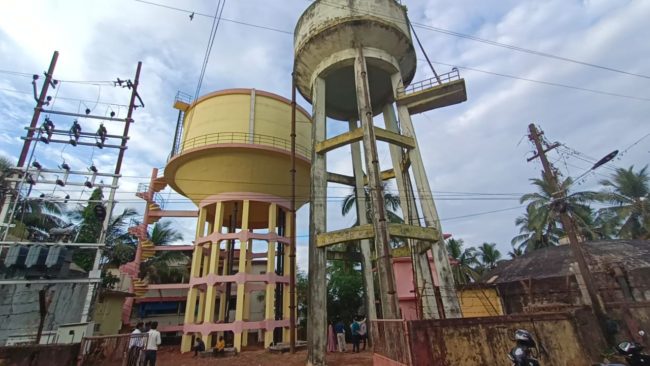 Goemkarponn desk
VASCO: Panchayat Minister Mauvin Godinho inaugurated an overhead water tank with a pumping station at Dabolim in the presence of Municipal Councillors and PWD officials.
Godinho addressing a gathering, said that the Dabolim constituency was moving towards 24 hours water supply, and a major issue of water supply had been put to rest with the inauguration of the overhead water tank with a pumping station.
In a unique initiative, Godinho said that a special water pipeline of around 3800 metres has been taken from INS Hansa to the new Vaddem reservoir with branch pipeline to Cottage Hospital Reservoir, Regina Mundi reservoir and Joggers Park area in Chicalim up to the industrial estate.
"There was a lot of pressure from locals on the water supply because of which this 750 Cubic meter water overhead reservoir has been inaugurated, and we can now store 7.5 lakhs litres water in this facility.
In the event of power failure, the water can also be supplied to Vaddem, New Vaddem by gravity, and even the issues of water supply to Chicalim will also be resolved.
"We have two water pumps here, of which one will be standby in case the other pump faces problems. From now on, there will be no issues regarding the water supply or the pressure of the water supply. We have solved a major issue of water supply," he said.
He said that once upon a time, residents of New Vaddem would get supply three hours of water supply and that too in the wee hours of the day, but things kept improving.
"We then decided to improvise water suplly and leave behind political differences. As an MLA, I got a water suplly pipeline sanctioned through the then PWD Minister Sudin Dhawlikar. This has helped us fill water in this overhead reservoir facility, and today we move towards 24-hour water supply. I request the PWD officers to ensure that they ensure fair distribution of water in our constituency. We have no issues with power supply, and the other issue that will soon be resolved is the sewage line in a phased manner," said Godinho.
PWD Senior Engineer Vishwambar Bhende said that the project was funded through JICA, and the project would be handed over to PWD and operated by them
"The project has an overhead reservoir with a capacity of 7.5 lakh litres, and it has a pump house with two pump sets with a capacity of 250 cubic meters per hour. The tank can be loaded in three hours and the earlier reservoir was of 150 cubic meter, which is 5 times bigger than the previous one. The main advantage is that our storage has increased and we can start supplying water in the morning time unlike the night time like earlier. This water can be supplied for a minimum of 5 hours with this capacity." said Bhende.
Comment