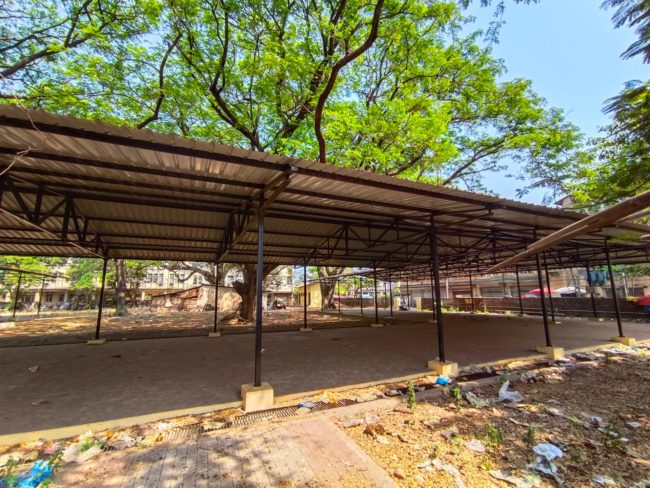 Goemkarponn desk
VASCO: Newly erected temporary fish market shed near Mormugao municipality has turned into a safe heaven for the beggars and homeless from Port town. The shed, which was built on shifting fish vendors from the old shed temporarily, has been filled with plastic and food residual waste littered by the beggars.
The vagueness in the issue of shifting fish vendors has further delayed the utilization of the temporary shed, which was built by GSUDA some months ago by spending lakhs of rupees.
Ironically, way money on some projects by the Mormugao municipality when there is uncertainty. After spending lakhs of funds to erect a temporary shed, now the city runs out of money to pay salaries to their workers and employees.
A visit to the newly erected temporary shed near the vegetable market of Vasco, it was observed that many beggars and homeless seek refuge in this shed to sleep and rest. Some underneath portions of this shed are filled with the food residual, liquor bottles, and dry waste material littered by these beggars.
It may be recalled that the actual objective of this temporary shed was to accommodate the fish vendors from the old shed neighboring the Khariawado area which was supposed to be done when the work of the new fish market project would start. But due to some unfinished negotiations between the Mormugao municipality and the Vasco fish vendors, the shifting of fish vendors never happened.
A fruit vendor, on the condition of anonymity, told that a temporary shed is an excellent place, and it would be better if fruit vendors could be shifted to this new shed.
Another vendor said that some beggars are misusing this shed which was built, and if not occupied, then some beggars and anti-social elements might start occupying this vacant place.
When contacted, MMC chairperson Damodar Kaskar, informed that decision to shift fish vendors from the existing fish market shed to a new temporary shed would be taken up during the council meeting to discuss this issue with the councilors.
Comment