NO ALLIANCE YET: RAO – Alliance decision with GFP only after elections are announced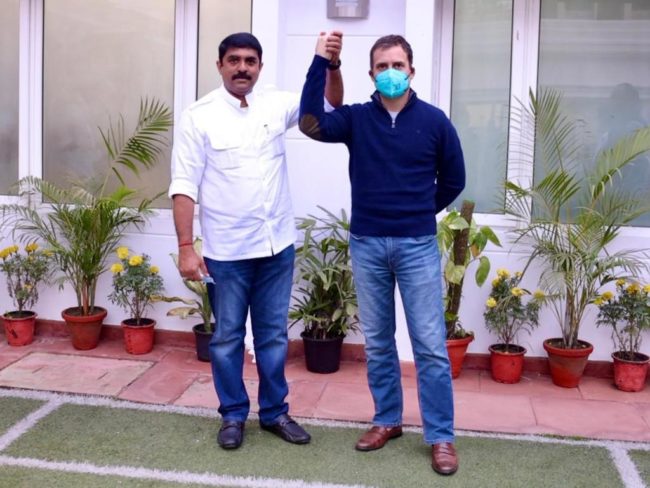 Congress GOOGLY??
"No decision yet on alliance with the Goa Forward. The party has extended support to Congress. The final decision on alliance only after elections are announced in the state," said Gundu Rao.
He further said that there is a need to clarify as they have come out to support Congress.
"This is a support, and ultimately, we will work out with formalities. They have come to us to fight unitedly against the BJP," he added.
Goemkarponn desk
PANAJI: PANAJI: AICC Desk Incharge for Goa Dinesh Gundu Rao has clarified that no decision on alliance has yet been taken with the Goa Forward Party (GFP).
"No decision yet on alliance with the Goa Forward. The party has extended support to Congress. The final decision on alliance only after elections are announced in the state," said Gundu Rao.
He further said that there is a need to clarify as they have come out to support Congress.
"This is a support, and ultimately, we will work out with formalities. They have come to us to fight unitedly against the BJP," he added.
Rao said that the final decision will be decided and will be informed to the people of Goa.
"Alliance is confirmed, and nitty-gritties are being worked. We will be going together for the 2022 elections together," Rao added.
He said that Congress is the leader of the alliance and all inputs will be taken from all our partners.
"We will decide on the candidates; everything will be decided," Rao said
Ahead of the state assembly elections early next year, Goa Forward Party (GFP) president Vijay Sardesai today met Congress leader Rahul Gandhi and pledged to fight with the grand old party against the BJP.
The GFP was a crucial ally of the BJP-led National Democratic Alliance (NDA) and was recently being wooed by several players, including the Trinamool Congress, which reportedly wanted a merger.
In April this year, the GFP had walked out of the NDA, citing "anti-Goan policies" of the BJP-led state government. It pointed out the state government's alleged failure to handle various issues, such as three linear projects, the Mahadayi river water dispute, and other matters.
On Tuesday, GFP President Vijai Sardesai tweeted ""Met Shri @RahulGandhi along with my colleagues @prasadgaonkr13 and @vinod_palyekar. We agreed to fight resolutely, wholeheartedly and unitedly on behalf of the people of #Goa to end the utterly corrupt, incompetent and undemocratic reign of @BJP4Goa
#ChalYaFuddem!," Vijai Sardesai tweeted.
He added, "Continuance of Goa under @BJP4Goa rule is an impossibility! Met with Shri @RahulGandhi. Proud to be working for the 2nd liberation with the great-grandson of the person who enabled the 1st! The curse of the communal and anti-Goan @DrPramodPSawant
govt will be blown away!"
Comment