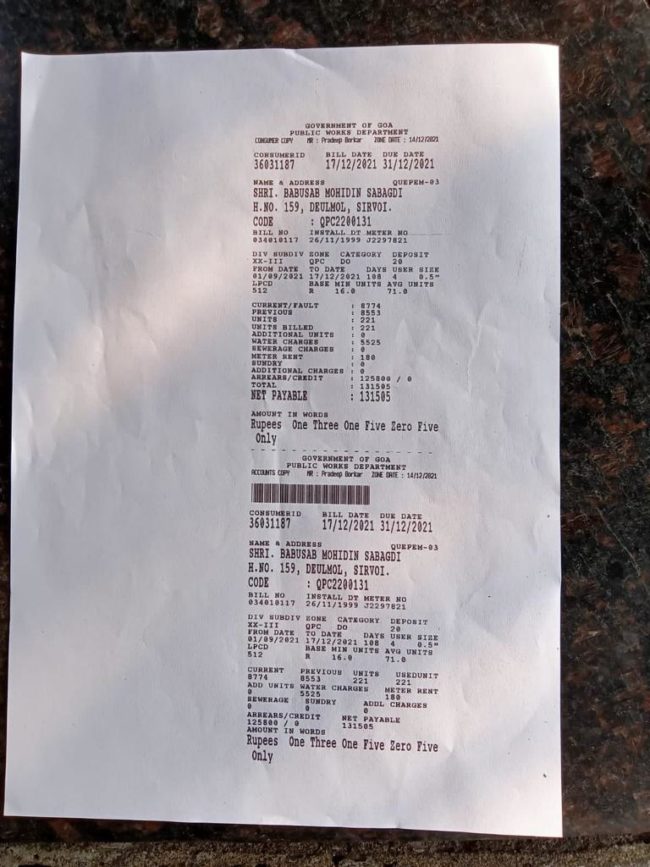 Christanand Pednekar/ Goemkarponn desk
Quepem: A household from Quepem gets a water bill of Rs.1lakh. Pedamol, Shirvoi residents irked over the inflated water bills which ranged from Rs.3000 to 10000.
If one imagine a getting a water bill of Rs.1 lakh the person might start feeling dizzy hearing about it. But this is not a pulp fiction but the sheer truth. A house from Quepem taluka was slapped with an exorbitant water bill of Rs. 1 lakh can you believe this?
All over Goa, people are in agitated mode with regards to water supply and the inflated water bills which they are receiving from the PWD department.  Such unbelievable instances are happening in various parts giving shockers to the citizens.
The water bills some of locals have received in Quepem municipal area are ranging from Rs.3000, 5000, 10000 especially from Pedamol-Shirvoi areas.  A house here has received an excess domestic water bill of Rs.1 lakh.
Azim Sheikh, a social worker in Quepem said that "I was informed about this by some people yesterday and they told me to highlight the issue of exorbitant water bill. People called me and told me that the matter is not from one or two houses but many people in municipal area have faced this problem.
People also gave me Xerox copies of about 15 household bills, and they said the maximum bill was one lakh rupees in Pedamol-Shirvoi area which is not acceptable.
Sheikh further said that after discussion with locals of pedamol, Coni and Igramol areas of Quepem, it was decided to submit memorandum on Monday regarding inflated domestic water bill to Local PWD (Water Supply) Office, Local MLA and Deputy Chief Minister Babu Kavalekar as well as Goa Chief Minister Dr. Pramod Sawant.
Amelia D'Costa, a local from Conny Village municipality, said "We've got over five and a half thousand bills from the PED water supply office, which seems to be more than two or three months' bill.
Reacting to the fact that people received extra bills for the first time, Pedamol- Shirvoi locals complained that the mostly people in their village were working on a daily basis and they could not afford to pay inflated water bills.
The PWD (water supply) should pay attention and reduce the amount in consultation with the higher authorities and issue proper and reasonable bills and hopefully government will do what is required, locals opined.
Comment