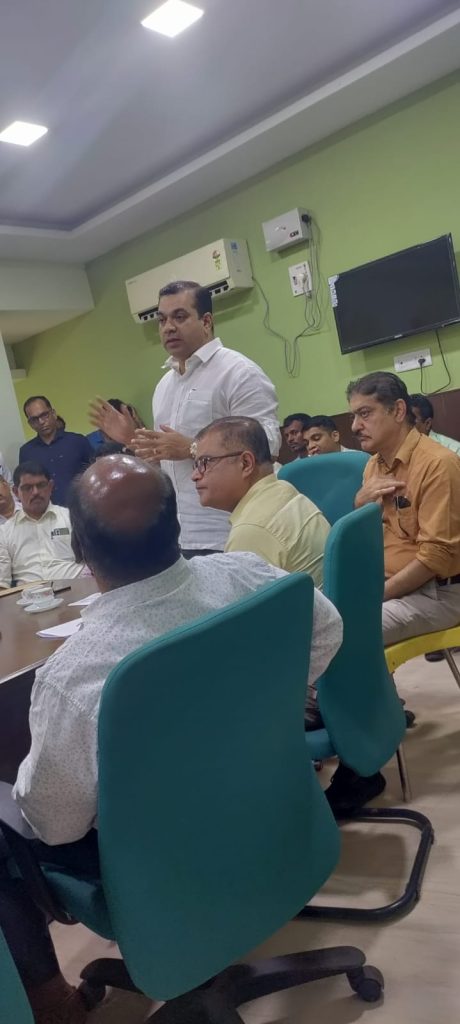 CANACONA – Stating developing the environmentally rich, Clean, and green Canacona taluka is a challenging task, Minister for Tourism Rohan Khaunte informed two off Canacona Beaches, including Agonda Beach can be recommended for Blue-Flag Beach Certification.
Minister Khaunte, along with GLA Speaker and Canacona MLA Ramesh Tawadkar, was interacting with different local bodies(CMC Chairperson and Councillors, Sarpanch's and Panch members of Agonda, Shrishthal, Poinguinim Khotigao Gaondongrim and Loliem-Polem) and prominent citizens over tourism developmental works in Canacona at Government Rest House Shrishthal on Thursday.
"We will carry out progressive development of Canacona along with rest of the state, in the era of revenge tourism, not only beaches but hinterland tourism including eco-tourism, agro-tourism, water Sports, wellness and adventure tourism is also in our scheme of things.
Both airports will continue; the government has time and again taken this stand; the problem is whether we will allow Tourists arriving at Mopa will be taken in Goa or by Malvan (Beaches in Maharashtra). Blue Flag certification will bring quality tourists," he said.
He said to attract Canacona's lots of work, your MLA had to prioritise the assignments given/ proposed by you the Swadesh Darshan scheme is coming.
"Tourism activities will result in solving unemployment; it can also give self-employment.
Khaunte suggested a core team from Canacona to interact with the team to be formed by the government.
Khaunte also suggested App based bookings for water Sports such as Dolphin Trips by Boats.
Later, stating that at least two beaches of Canacona can be promoted as Blue Flag Beach Certification- Director of Tourism Nikhil Dessai explained its concept has 38 parameters. Agonda beach, which is often ranked amongst the top 12 beaches of the world as a clean beach and the best among 6 in Asia, could be an ideal choice for Blue Flag Beach Certification.
The gold standard of the world beaches is a concept practised in 40 countries.
Amongst the 38 parameters, water quality, Safety and Security, Drinking water, lighting, and Access-to-the-beach are some of the parameters that a team from Denmark certifies. Earlier, an Auditor of this independent and non-government world body in the country sent a report, after which a final team inspected and gave the certification. Certification is also not for a lifetime but just for a year. If you don't maintain the same standards due to which it has earned the certification, the certificate gets revoked, so conservation and maintenance of all 38 parameters is a must. And since the Blue Flag Beach Certification is a prestige issue of the State, the government in total participation will not allow losing this certification.
GLA Speaker and Canacona MLA Ramesh Tawadkar also put out some of the issues to develop Tourism even to the hinterlands, CMC Chairperson Ramakant Naikgaunkar, Councillor and Ex-Chairperson Simon Rebello, Agonda Sarpanch Fatima Rodrigues, Khotigao sarpanch Anandu Desai, Poinguinim Dy Sarpanch Sunil Paingankar, Loliem -Polem panch and Ex-sarpanch Sachin Naik, Gaondongrim Panch Vishant Gaonkar, were amongst a few others listed the issues of their respective areas. CMC Chairperson Ramakant Naikgaunkar presented a list of demands for the development of municipal Coast.
Secretary Tourism Sanjiv Ahuja,
Brijesh Madelkar and other government officers and officials were also present.
On Friday, the beaches of Agonda, Palolem, Patnem, Rajbhag Galgibaga, Polem and others will be inspected by Tourism Minister Rohan Khaunte along with a team of Engineers, Architects and others.
Comment