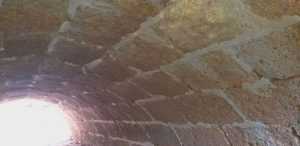 Goemkarponn desk
CANACONA: Stating the Portuguese era culvert-bridge building technology is far better and long-lasting than the modern State-of-the-art engineering technology, people advocated that PWD engineers should resort to the olden days' concept to build modern bridges, especially the culvert bridges on Major District Roads( MDR) and Village Interior Roads.
To prove their point, locals in Loliem village pointed to about a 120- years old bridge still intact and standing in good condition on an old and abandoned Portugues-era Highway road section passing through the village.
According to villagers, this culvert-bridge is built using a mixture of Lime-Powder and Juggery, Mud, and meticulously arranged stone bricks instead of using Steel, cement, Sand, and Black-Metal is over a century-year-old.
The bridge is so well designed that no defects could have destroyed the bridge over the long years.
No cement, steel, or black-metal is used to build this bridge, and people believe that the government should bring back the old technology to build bridges/culverts to build modern bridges.
The bricks, many with curved–shapes, have been so methodically arranged that even after completing a century, not even a small gap or space separating any of the bricks is seen. Neither its foundation nor any bricks are moved an inch, though, for more than 120 years, this culvert bridge has provided safe passage from one side of the road to another, informs residents.
This road section used to be a highway during Portuguese times, and this bridge has well sustained all types of vehicles, including those weighing 100 tons and above. However, this bridge has not shaken a bit, and heavy vehicles didn't make any difference to its safety, states a villager Vishant Prabhu.
Is there a need for the government to revert back to such a technology to build bridges? This is a pertinent question people are asking now. According to residents, now in modern times, bridges are built with State-of-the-Art technology and the best materials expending crores of rupees, but some don't lasts even 10 years, get damaged too soon and too easily, steel rusts, cement/concrete pieces fall, and some even collapses, paving the way for inquiry, investigation and fact-finding committees. And still, some don't last over 20-25 years. Inspite of expending crores of rupees, no one guarantee its service period or ensure how long it will last, complains the residents.
Prabhu is asking, 'What actually is the need of the hour is to study the concept and technology used in those old days and particularly Portuguese era built, and still, these culverts and bridges stand tall.
There were no engineers then when this bridge was built, but is there a need for the present engineers to study and adopt that old technology, which looks to be a proven and tested technology to build new modern bridges, especially the culvert bridges on major district roads and village interior roads? Asked another villager.
Comment