Goemkarponn desk
CANACONA: It's a bit trivial' The Garbage Treatment Plant (GTP) belongs to Canacona Municipality, housed in the forested land of the revenue village of Shristhal panchayat, whereas the stink/ leachate that flows from the GTP contaminates the water bodies and plays havoc with the environment of the village of Agonda in Canacona.
Even as living has become hard for the residents of the newly developed residential hamlet at Dumane close to the GTP, where garbage stench fills the air, it's the tough journey to commuters using the Canacona –Agonda road for the people of these villages (Agonda and Khola) and the visitors (Tourists).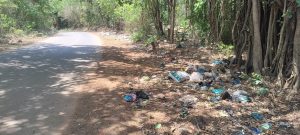 To make matter worst, 100 metres stretch of this Canacona-Agonda road near and at the entrance of the gated kutcha road (under CMC's possession) to the Garbage Treatment Plant located at a short distance of about 100 metres mostly remain to drown and covered with fallen wastes and plastics from the municipal vehicles transporting Garbage to the GTP.
With the Garbage with flying plastics mostly strewn across the Canacona –Agonda road at Dumane (which has a gated kutcha road through forest land to proceed to the GTP, the commuters on this MDF-49 Agonda, Khola road are the worst sufferers, largely keeping the vitiating atmosphere the nearby newly developed residential locality.
Incidentally, the inside and outside of the Gate towards the GTP, operated by the municipality for its garbage compactors and other vehicles to dump the Garbage at the GTP, is mostly found full of fallen and strewn plastics and other types of garbage material.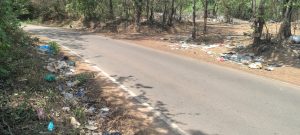 0ver 100 metres of the Agonda-Canacona road is also found full of garbage waste doting on either side of the road. The sufferers are the commuters on this road and the nearby residents of the newly developed residential locality of Dumane.
With the Municipal workers showing no scant to the scattered wastes mostly fallen from their Garbage transporting compactors/vehicles, at times and probably on many occasions, the Goenkars engaged Couple-on-the-Bicycle picking up roadside plastics/garbage on municipal streets goes beyond their operating areas to enter the jurisdiction of Shristhal panchayat to clear the road.
As the State and Canacona Taluka scheduled a slew of programs to mark World Environment Day on Monday, the Canacona-Agonda road within the forested land at Dumane is badly covered with plastic and other wastes depicting the sorry state of affairs in maintaining a clean and healthy Environment.
Comment