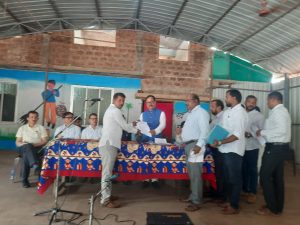 Social Welfare Minister, accompanying Sarpanchas, panchas from the Mining Belt, assures them to exclude as many villages from ESA, after the Central Committee shows its helplessness.
Goemkarponn desk
CANACONA: Over Ten (10) village panchayat's seeking to exclude their villages from Ecologically Sensitive Areas (ESA) gave their presentations to the visiting Central Committee for finalizing villages in the Western Ghats as ESA's at Khola in Canacona on Monday.
Minister for Social Welfare Subhash Phaldessai attended the meeting along with the representatives of village panchayat's of Dhabandora, Kulem,Sanguem, Sanvordem and later pleaded with the Central committee to exclude the villages from the ESA's as sought by these villages.
With the Agonda and Shristhal Panchayat areas already out of contention for inclusion in the ESA's, besides Khola, Gaondongrim, Khotigao, Poinguinim and Loliem-Polem of Canacona taluka also gave their presentations highlighting some critical issues to prevail the authorities to exclude their areas from proposed ESAs. According to Khola Sarpanch Krishna Velip, the village being a highly tourism related and having most others areas into cultivation made a strong case for exclusion from the ESA.The eastern panchayat's from Sanguem, Dharbondara, Quepem, Sanvordem in their presentation highlighted that the areas are fully dependent on mining (as only source of income) and any diversion from it will have serious implications on people livelihood, in justifying their pleas to exclude their areas from ESA.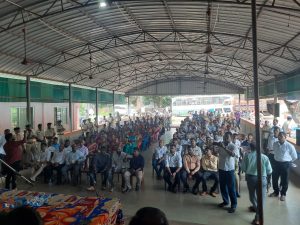 Incidentally, the Central Committee headed by Retired IFS Sanjay Kumar, was not ready to exclude and virtually refused to budge stating they are not authorized nor its within their authority to exclude any of the villages, as sought before them, and requested to instead present their cases to the central government through State government. The committee also refused to accept a joint representation brought by these panchayat was instead handed over the Minister Subhash Phaldessai.
Social Welfare Minister Subhash Phaldessai, swiftly reacting to the Central Committee's suggestion informed the representation and concerns of these panchayat's would be submitted before the Chief Minister, and assured the panchayat's of getting their villages excluded from ESA as sought by the respective panchayat's.
Sarpanch's, some Panch members and Panchayat Secretaries of all the concerned panchayat came to present their presentations requesting to exclude their areas from finalizing villages in wester ghats as Ecologically Sensitive Areas (ESA)
Comment