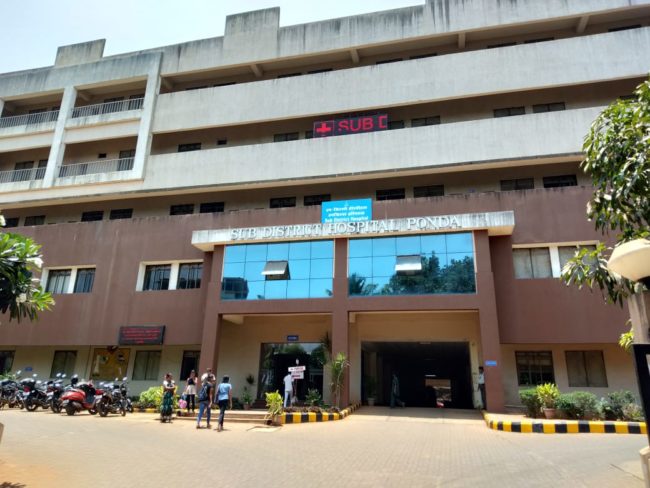 Goemkarponn desk
PONDA: Ponda Taluka's people are delighted for getting to three ministerial posts for MLAs in the newly sworn-in Cabinet of Dr Pramod Sawant.
Besides Ravi Naik, Govind Gaude and Subash Shirodkar, who took oath as ministers, the Marcaim MLA Sudin Dhavlikar is also expected to get a Ministerial berth in the Cabinet expansion.
People now hope for a lot of development and issues to be resolved in Ponda Taluka from the joint effort of these Ministers.
The expectations of Pondaitees have increased as many of them feels Ponda fell behind in development work in the past ten years.
Hanumant Naik, a social worker at Durbhat, Ponda, said he is happy that the three ministerial posts are given to Ponda Taluka.
He said besides development work and roads hot-mix carpeting, the main thing the people want is to upgrade Ponda Sub District Hospital into a fully equipped Hospital on lines of GMC.
Social Activist in Ponda City Viraj Sapre said it's been ten years since the inauguration of Ponda Sub District Hospital, but people entirely depend on GMC for basic medical facilities.
This Hospital lacks CT scans, MRI machines, specialist doctors. Even for minor ailments, patients are sent to GMC.
Besides the up-gradation of the Hospital, he said the parking is another problem haunting Ponda locals.
Vishal Fadte said parking spaces need to be created as people park their vehicles in no parking zone due to a shortage of parking areas and often imposed fines by traffic police.
The third main demand of Pondaitees is to solve the major unemployment problem.
Vishal Fadte and Viraj Sapre said there is a need to bring more industries to provide jobs to local youths at Marcaim, Bethora, Kundai, and Shiroda Industrial Estates.
In the case of Shiroda, there is a need to utilize the KTC bus stand and bypass the road to decongest Shiroda Bazaar.
Besides launching development work, there is a need for a new Borim Bridge, bypass road to decongest village.
At Priol, people expect Ravindra Bhavan as it is the artist's land. At Marcaim, the locals want jobs locals in Marcaim Industries, besides communidade land for housing purposes.
In the case of Ponda already, MLA Ravi Naik had promised to bring the third district for Aam Admi's benefit, so people expected them to fulfil this dream as he became Minister. He was earlier Minister from 2007 to 2012. Last ten years, Ponda did not get ministerial birth.
The taluka locals want the up-gradation of facilities at the Ponda Sports complex at Curti; besides good roads, the road condition has deteriorated in most parts of taluka.
At Khandepar, the new four-lane bridge was inaugurated three years ago but lacks an approach road, due to which Khandepar Junction has become an accident-prone zone, especially students are risking their lives at dangerous OPA junction while waiting for the bus.
So people hope that proper follow up will be conducted with NH for immediate construction of the approach road to Khandepar bridge.
According to Viraj Sapre, people spend a lot of money on medical expenses. In the absence of CT scans, people went to private Hospitals and spent thousands of money on their treatment.
The Ponda Sub District Hospital need CT scan Machine, Blood bank, MRI machine, sufficient doctors.
He said various surgeries should be performed at this Hospital so that people will get relief. Several patients from neighbouring Dharbandora and other talukas visit this Hospital for treatment but are forced to shift to GMC due to lack of facilities.
Besides health problems, Pondaites faces another major problem: parking problems. One gets an apartment in Ponda but difficult to get a parking space in the City, and one has to search the lot for parking for cars and bikes. There are very few parking spaces, and those are falling short for parking of vehicles.
He also stressed more Industries in Ponda Taluka to solve the unemployment problem as the government jobs are limited.
Comment