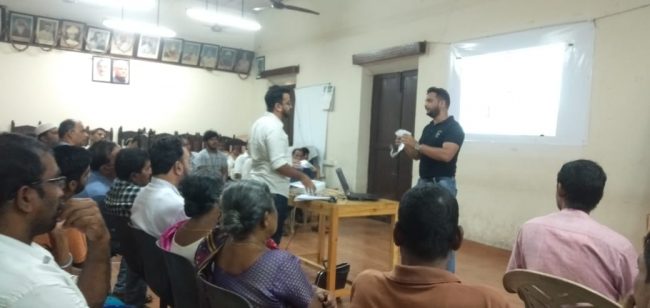 Goemkarponn desk
PONDA: Ponda Municipal Council has created awareness about the ban on single-use plastic to prevent pollution of water resources and the environment.
The Ponda Municipal Council (PMC) today created awareness among Ponda Market Vendors/people, cautioning people about the ban on single-use plastic items from July 1.
The PMC officials said We have started awareness about the ban on single-use plastic among vendors, and fines will be issued only after proper awareness among vendors and the general public.
Gaurav Pokle, on behalf of GSUDA and PMC, delivered a talk to Ponda Market Vendors at PMC Hall. He said henceforth, manufacturing, import, stocking, distribution, sale and use of carrying bags made of virgin or recycled plastic shall not be less than 75 microns in thickness. There is No ban on reusable plastic.
The single used plastic cannot be recycled or reused and has low utility and high littering potential by 2022 as per the Plastic Waste Management (PWM) Rules 2021 notified by the ministry of environment, forests and climate change.
He said Single means using once and throwing out. This includes plastic made with below 75 microns. Besides this, it also provides straws, earbuds with a plastic stick, plastic sticks for the balloon, plastic flags, candy sticks, plastic plates, cups, glasses, tray, cutlery, wrap, Polystyrene for decoration, cigarette packets, plastic banner, plastic stirrers etc.
He said vendors and customers have to change their mindset. There was traditional practice to keep one bag for shopping which need to adopt now.
Plastic is choking gutters, and the water body is polluted. Mud and soil also get polluted.
If low-micron plastic is burnt, carbon dioxide is released as smoke. He said microplastic is consumed by fish and living organisms, which are consumed by humans.
Henceforth the vendors should buy plastic from only government-registered manufacturers.
The officials also warned about fines for not following the single-use plastic ban laws. For households, the dumping and littering of waste would be issued with fines of a minimum of Rs 200, while for society, flats rates are more.
The vendors would be issued fines of Rs 5000 for using plastic below 75 microns. Similarly, there are Fines for burning plastic waste by households and commercial establishments.
Comment