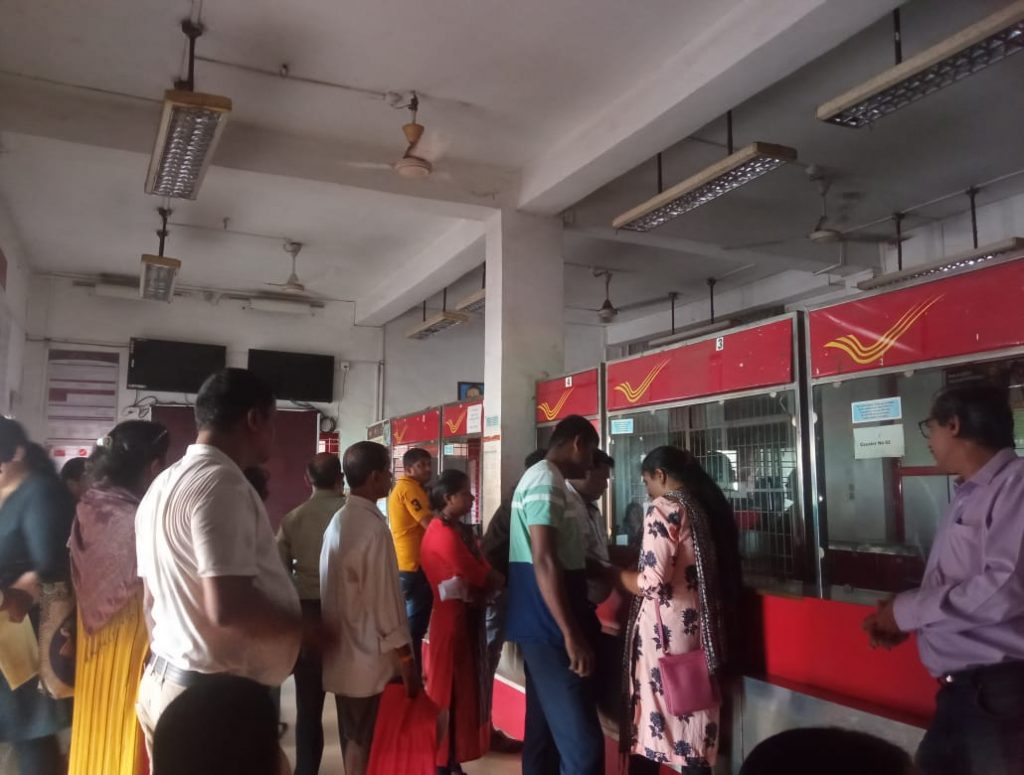 Goemkarponn desk
PONDA: The recurring problem of erratic power interruption and network connectivity issues once again irked the customers of the Indian Post office Ponda since they were forced to wait in a long queue for at least an hour.
Vanita Naik, a retired teacher from Ponda, lamented, saying, "this has been the third time I am visiting the Indian post office to withdraw the cash from the SCSS scheme. I returned back twice due to a server error. And today, yet again the server is down.
Postmaster Sulekha Parab informed that this problem has persisted for the last four days. She said that the post office constitutes a single generator which is insufficient to handle the load of the entire office. This affects the Uninterruptible Power Supply (UPS) unit. This shuts the systems automatically with disruption in internal power supply".
Postmaster further informed us that the batteries used for backing the power of the UPS unit get discharged very fast, and the Post office is currently in the process of procuring these batteries.
"The file for approval of batteries has been sent to the higher-ups. We are waiting for sanctioning of these units", she added.
Furthermore, purchasing or procuring equipment or units requires permission and approval from the Central government. Since the Centre is the final authority of decision-making, the sanctioning process becomes a little slow, added Parab.
Parab said she is unaware of the life span of batteries and the other technicalities since she is new to this office. She informed me that there is no permanent Postmaster at this office. "The officer taking charge of this office as a postmaster officiates temporarily and leaves within six months or so", she added.
Furthermore, the post office is backed up by 16 batteries. Also, we must inform the Panjim Divisional office in case of any failure issues. This office is backed by BSNL and Airtel service providers regarding network connectivity. Both the networks have been slow for the last couple of days both the servers are creating issues; I formed Parab.
The post office agent, on a condition of anonymity, said, "May it be the work of depositing or withdrawal of money, the process at this office always runs at turtle's pace. The post office Server goes down most of the time.
Annoyed with the server issue, senior citizen Vandana Naik from Shiroda said the customers are always forced to wait at this post for hours. Technical snag in the network at the Ponda post office is nothing new. Payments such as monthly income scheme, Recurring Deposits (RD), Senior citizens SB scheme, senior citizen savings scheme (SCSS), Postal Life Insurance, National Savings Certificates, time deposits and withdrawals get affected due to server problem", she added.
Today, this post office also saw multiple conflicts between employees and customers over a discrepancy in queue token numbers issued to the customers.
Comment